This Morning's Alison Hammond causes a stir with lookalike son Aiden
Phoebe Tatham

Alison Hammond caused a stir on Thursday after she shared a summer snap alongside her lookalike son Aiden

Alison Hammond delighted fans with her latest upbeat appearance alongside her lookalike teenage son, Aiden.
MORE: This Morning's Alison Hammond's unconventional home life revealed
Taking to her Instagram, the This Morning presenter shared a joyous snap with her 1.1 million followers. Joined by her 17-year-old son, the duo appeared in high spirits as they made the most of their well-deserved summer break.
WATCH: Alison Hammond and her son underdo major transformation!
The 47-year-old looked sensational in her bold leopard print shirt which she teamed with a black leather biker jacket. Alison elevated her outfit with a pair of stylish pink-tinted sunglasses and a pair of gold hoop earrings.
READ: Alison Hammond left red-faced after Dermot O'Leary reveals her 'special someone'
MORE: Alison Hammond has dental disaster ahead of show
Keeping things low-key, the mum-of-one opted for a sweep of elegant makeup featuring lashings of mascara and a nude lip.
She captioned her post: "Happy Holidays" followed by a red heart emoji.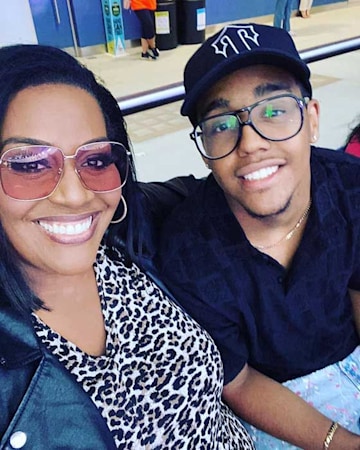 Alison shared a rare snap of her son Aiden
Her fans wasted no time in drawing parallels between the mother-son duo, with one writing: "Gosh, Aiden is just your spit!" whilst a second penned: "He's literally your double!!!" and a third added: "Gorgeous pic, he's your double."
Other fans inundated the comment section with sweet well-wishes. "What a lovely picture. Enjoy your time off, can't wait to see you back on This Morning", and a second remarked: "Beautiful photo of you and your boy Alison".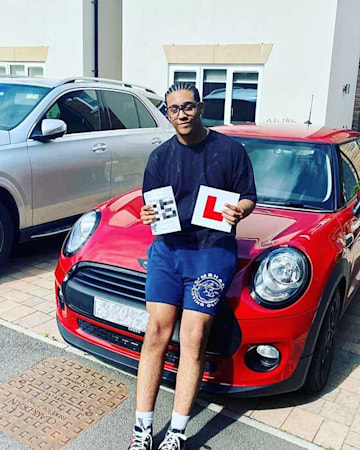 The presenter documents her son's milestone achievements
Alison shares the 17-year-old son with her ex-husband Noureddine Boufaied. It is not clear when she split from Noureddine, but she later went on to get engaged to security guard Jamie Savage in 2014 before eventually going their separate ways in 2017.
The mother-son duo have a very close bond and in an exclusive interview with HELLO!, she opened up about their connection. "Aidan is my twin who was born 30 years after me. Our personalities are very similar. I'm so proud of the kind young man he's turned into," she explained.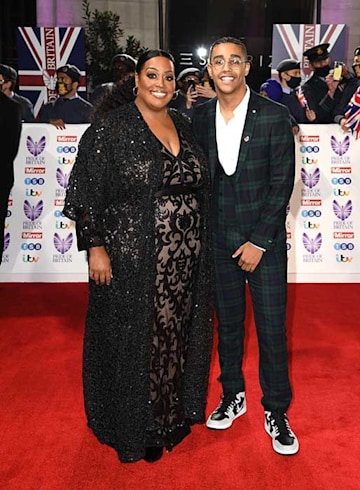 The duo looked fabulous on the red carpet in 2021
The star added: "I'm proud of the person he is, how kind he is. He's a lovely, chilled out young man. When other people come up to me and say: 'Your son is so lovely', I think 'Yes, I've done my job'."
Speaking of her regrets, Alison admitted: "My one wish would be that I'd had more children. I wish I'd had another three back then. I would totally consider adoption in the future."
Like this story? Sign up to our HELLO! Mail newsletter to get other stories like this delivered straight to your inbox.


Read the full article here
LeAnn Rimes gives special Thanksgiving shoutout to husband Eddie Cibrian's ex-wife Brandi Glanville
Rebecca Lewis

LeAnn Rimes surprises fans with Thanksgiving shoutout on Instagram to husband Eddie Cibrian's ex-wife RHOBH star Brandi Glanville

LeAnn Rimes has given a sweet shoutout to her husband Eddie Cibrian's ex-wife Brandi Glanville as she missed their family Thanksgiving.  On the special day LeAnn took to Instagram to post a picture of herself and Eddie and his two sons, Jake and Mason, and Eddie's parents.
TRENDING: Gisele Bundchen reaches out to Tom Brady with surprisingly heartfelt gesture
"'We can only be said to be alive in those moments when our hearts are conscious of our treasures,' -Thornton Wilder," LeAnn captioned the post, tagging the phrases 'Thanksgiving' and 'Thankful' before adding: "@brandiglanville we missed you."
WATCH: LeAnn Rimes performs 'beautiful' acoustic music in swimming pool
"Happy Thanksgiving! So thankful for you all. #modernfamily," Brandi commented in response and LeAnn replied with a heart emoji.
Brandi shared the same picture on her own account and revealed she was home sick and unable to join her sons and ex-husband. "Happy Thanksgiving to all! I missed my modern family today as I'm at home in bed with a cold. Love these people," she captioned her own post.
EXCLUSIVE: Today's Savannah Guthrie reveals husband's hilarious reaction to family's new Christmas tradition
TRENDING NOW: Madonna's rare photo with all six of her kids has fans asking questions
Their friendship has been built over the years following their contentious relationship when it emerged in 2009 that Eddie had been cheating on Brandi with LeAnn. Brandi and Eddie were married from 2001 to 2010, while LeAnn was married to her own husband Dean Sheremet and filed for divorce shortly after the news broke.
Eddie and LeAnn then wed in April 2011 and were in a public feud with Brandi for several years. However they came together over co-parenting Jake, 15, and 19-year-old Mason.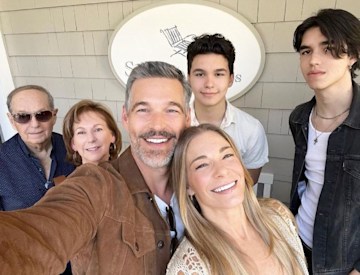 LeAnn shared this picture with fans and Brandi reposted it
"I love to see this!" commented one fan. "A willingness to grow and change for the better so that you and your ex and the new partner(s) are able to peacefully co-parent should always be applauded."
LeAnn recently turned 40 and released her fifteenth studio album, God's Work. She has been on a promotional tour for the record that recently took her to New York City, and she took a moment to express gratitude for where life had taken her.
"Couldn't have asked for a better way to release #godswork into the world. Blessed to be surrounded by the sweetest souls, who worked so hard to make it happen," she captioned the post.
Read more HELLO! US stories here
Like this story? Sign up to our newsletter to get other stories like this delivered straight to your inbox


Read the full article here
Paris Hilton wows fans with Baywatch-inspired swimsuit as she celebrates first wedding anniversary
Rebecca Lewis

Paris Hilton and husband Carter Reum have been celebrating their wedding anniversary in the Maldives.

Paris Hilton has been celebrating her wedding anniversary in the Maldives and gave fans a sneak peek at "paradise on Earth" when she shared a picture of herself rocking a bright red Baywatch-inspired swimsuit.
TRENDING: Gisele Bundchen reaches out to Tom Brady with surprisingly heartfelt gesture
In the picture Paris was in crystal clear blue waters and wore a Melissa Odabash red suit which featured a tie detail on the chest and ruffled sleeves. She paired the look with white heart-shaped sunglasses and wore her hair in a loose low bun, perfect for a day in the ocean.
WATCH: Paris Hilton stuns in bright pink wedding dress
"I've been all over the world and stayed at the most beautiful places. But I've never seen anything like the @IthaafushiPrivateIsland at @WaldorfAstoriaMaldives. This private island is truly Paradise on Earth!" she captioned the post.
Paris added: "So beautiful, romantic and relaxing here! Feels like a dream! I feel so lucky and blessed to be here with my love celebrating our anniversary."
EXCLUSIVE: Today's Savannah Guthrie reveals husband's hilarious reaction to family's new Christmas tradition
TRENDING NOW: Madonna's rare photo with all six of her kids has fans asking questions
Other pictures showed Paris lounging in a unicorn-shaped float while she also gave fans a glimpse into her evenings with husband Carter Reum, with the pair dressing up in their formal best for dinner.
In several pictures Paris wore a whimsical white maxi dress with floral detailing and a thigh-high split, paired with neutral wedges.
Paris shared a series of pictures with fans 
The trip comes after Paris addressed the speculation surrounding her fertility after her mom Kathy Hilton claimed her daughter was "struggling" to conceive her first child with her husband.
The 41-year-old took to her Instagram Stories to dismiss her mom's comments, revealing she and Carter were always planning to start their family after their first wedding anniversary which they celebrated in mid-November.
Paris also clarified that she is not experiencing fertility issues and has lots of "healthy embryos".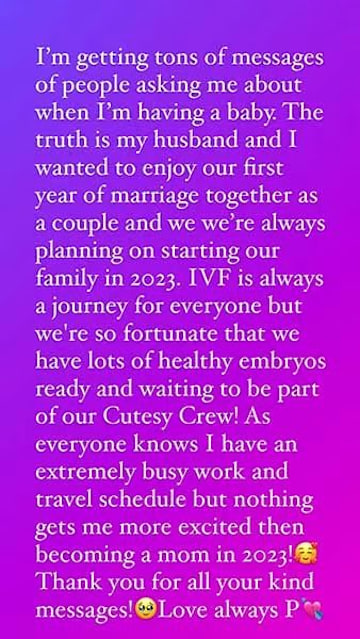 Paris addressed the rumors
"I'm getting tons of messages of people asking me about when I'm having a baby," she wrote. "The truth is. My husband and I wanted to enjoy our first year of marriage together as a couple and we were always planning on starting our family in 2023."
Revealing that the couple are using IVF, Paris added: "IVF is always a journey for everyone but we're so fortunate that we have lots of healthy embryos ready and waiting to be part of our Cutesy Crew!"
Paris concluded. "As everyone knows I have an extremely busy work and travel schedule, but nothing gets me more excited than becoming a mom in 2023. Thank you for all your kind messages!"
Read more HELLO! US stories here
Like this story? Sign up to our newsletter to get other stories like this delivered straight to your inbox


Read the full article here
Kate Beckinsale shocks with bloody and bruised appearance in startling BTS photos
Hannah Hargrave

Underworld star Kate Beckinsale shocked fans with her appearance in a series of revealing new photos

Kate Beckinsale is certainly dedicated to her craft! The Underworld actress startled her social media followers when she posted a selection of photos in which she appeared to have been injured. 
The star took to Instagram with images of herself bloody and bruised and simply captioned them: "TGIF."
TRENDING NOW: Meghan Markle looks so different in new photo ahead of family celebration 
In the snapshots, Kate had cuts on her faces and bruised hands, she also wore a back brace as fans rushed to ask if she was ok. 
WATCH: Kate Beckinsale shows off sensational physique in jaw-dropping video 
"What happened boo?" asked one as another commented: "Ouch! Hope you're on the mend."
Others added shocked face emojis and many wondered if she had been filming a new Underworld movie. 
The majority of Kate's dedicated followers realized her look was for the movie she's working on, Canary Black. 
MORE: Kate Beckinsale reveals new short hairdo 
POPULAR: Joanna Gaines' husband Chip's opinion on divorce as he opens up about their relationship
One even wrote: "Canary Black movie leaving you bruised and battered. I bet it's gonna be good tho. Saw some behind the scenes where a tram flips a car. Looked epic. Rest up kB. Hope you have a good weekend."
Kate was bloody and bruised for her new movie 
Kate recently surprised fans when she revealed a totally new hair style for her role in the film. 
In place of her long locks, she is now wearing a short, wavy bob, with a red hue. 
LOOK: Kate Beckinsale has fans divided over her cheeky swimsuit photos
READ: Kate Beckinsale looks stunning in strapless green bikini
After sharing a clip of herself having her tresses perfected in her trailer, she was inundated with comments as fans wrote, "That color really suits you," and, "gorgeous," while others said they thought the short hair looked great and called her "stunning".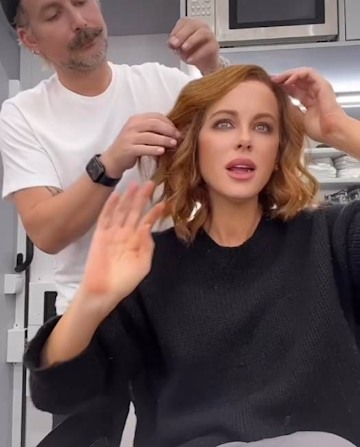 Kate is rocking shorter hair for her new movie 
While her wardrobe for the flick doesn't look too wild, over the summer, Kate ensured all eyes were on her once again when she stepped out in the most amazing latex outfit. 
She thrilled off-set when she showed off her killer curves and toned legs and finished the look with a classic high ponytail.
Kate also gave Catwoman a run for her money by pairing her look with matching latex evening gloves.
Read more HELLO! US stories here 
Like this story? Sign up to our HELLO! Mail newsletter to receive all the latest royal and celebrity news straight in your inbox.


Read the full article here