"The Flash" Is Going Ahead Despite Ezra Miller's Controversies & It's Sparked Backlash After "Batgirl" Was Axed
Warner Bros. CEO David Zaslav said he's "very excited" about The Flash on Thursday, but people think it should be axed after lead actor Ezra Miller's string of controversies.
Earlier this week, it was announced that Warner Bros. had decided to scrap its upcoming Batgirl movie, even though it had already cost the company a reported $90 million and was in post-production.
The movie was set to star In The Heights actor Leslie Grace in the titular role, with the cast including J.K. Simmons and Michael Keaton.
All principal filming for Batgirl had been completed and people were flummoxed by the decision to shelve it at such a late stage.
The movie was being made specifically for streaming service HBO Max, and sources told Variety: "The decision to axe Batgirl was not driven by the quality of the film or the commitment of the filmmakers, but by the desire for the studio's slate of DC features to be at a blockbuster scale."
However, the New York Post reported that Batgirl was actually being scrapped due to the negative reaction from test screenings. "[The screenings] were said to be so poorly received by moviegoers that the studio decided to cut its losses and run, for the sake of the brand's future," an insider alleged.
In addition to the $90 million loss from Batgirl, Warner Bros. also scrapped Scoob! A Holiday Haunt, the sequel to Scoob! that had already cost them a reported $40 million.
The company's bold decision to axe movies after it'd already poured money into them got many wondering about the fate of the upcoming DC Universe installment of The Flash.
Its future was up in the air for several months after its lead actor, Ezra Miller, was at the center of a series of allegations this year, including serious accusations of grooming and endangerment.
One person tweeted: "If they're willing to set $130 million on fire to not release Batgirl or Scoob! Holiday Haunt, then WB have absolutely zero excuses not to scrap The Flash given the circumstances surrounding Ezra Miller. the amount of money spent on it cannot function as an excuse anymore."
Ezra — who is nonbinary and uses they/them pronouns — was arrested in Hawaii twice in as many months and was also the subject of a restraining order at the start of the year.
They were first arrested on March 28 when they became agitated by a group of patrons in a Hawaii bar who were singing karaoke. Ezra was accused of shouting obscenities at the group and lunging at a man who was playing darts.
The actor was arrested and charged before being released on $500 bail. The following day, a local couple filed a temporary restraining order against Ezra after they alleged that the star had burst into their bedroom and threatened them.
In the police report, Ezra was accused of telling the man: "I will bury you and your slut wife." Ezra was also said to have stolen the man's wallet, which contained his bank cards, social security card, and driver's license, and the woman's passport.
In April, Ezra was arrested and taken into custody for second-degree assault after they were accused of throwing a chair at a 26-year-old woman, which struck her and left a half-inch cut. Ezra had reportedly become irate after being asked to leave a house party in Hawaii.
On June 7, Native American activist Chase Iron Eyes and his wife, Sara Jumping Eagle, filed an order of protection against Ezra Miller with the Standing Rock Sioux Tribal Court after they'd become concerned about their 18-year-old child Tokata's well-being.
Ezra and Tokata first met when Tokata was 12 years old and Ezra was 23. They developed a close friendship, and Tokata has been traveling around the world with Ezra.
The order accused Ezra of "physically and emotionally abusing, psychologically manipulating, physically intimidating and endangering the safety and welfare of 18 year old Tokata Iron Eyes."
Just weeks later, on June 29, the Daily Beast reported that a mother and her 12-year-old child were granted a temporary harassment prevention order against Ezra after they claimed the actor had behaved inappropriately toward the youth.
Warner Bros. and DC executives were reported to have held emergency meetings in March to discuss Ezra's future as the Flash, and apparently, they hit pause on any future projects with them for the time being.
They'd already filmed the character's standalone film, The Flash, with Ezra in 2021, and it's slated for release in June 2023.
But Batgirl's fate suggests that Warner Bros. and DC aren't too concerned about ditching projects, and its axing prompted speculation that The Flash could be next on the chopping block.
However, this is not the case, and during Warner Bros. Discovery's Q2 earnings call on Thursday, CEO David Zaslav confirmed that the studio will be pushing forward with The Flash's release.
Discussing The Flash, Black Adam, and Shazam! 2, Variety quoted Zaslav as saying: "We've seen them, we think they're terrific, and we think we can make them even better."
He added that he's "very excited about them."
A dedicated The Flash Twitter account also leaked an alleged DM from the movie's producer, Barbara Muschietti, on Wednesday, where she confirmed that "all is good in Flash land."
The decision has sparked serious backlash, especially after Batgirl was scrapped.
Taking to Twitter, one person wrote: "[Zaslav] said The Flash is a 'great DC film coming up' and refused to address Ezra Miller's conduct?" The person added that it seemed "pretty controversial" that Batgirl had been axed but Ezra got to keep their role.
"The moral of the @hbomax and @discoveryplus merger is: they will still release a movie featuring a garbage human (Ezra Miller) but they will scrap the already-filmed Batgirl created by and starring BIPOC. David Zaslav + Co. should be ashamed," another person wrote.
"So WB won't cancel The Flash despite all the shit Ezra Miller has done, but will cancel the Batgirl even though there's been no controversy attached to it and it's practically finished," a different person tweeted. "Are you fucking kidding me WB?!?!"
"The fact that they're shelving Batgirl but still planning to release that The Flash movie and praying somehow no one has read a single Ezra Miller story online for the past two years is…a choice," one more person commented.
"The fact that Warner Bros is willing to axe Batgirl because they don't think it'll be popular enough yet will still release the Flash even after the litany of awful things Ezra Miller has done/has been accused of doing is downright sickening," someone else tweeted.
While Batgirl did cost the studio millions, it was less than half of The Flash's estimated budget of $200 million, making it a much more expensive sacrifice.
In addition, The Flash is set to be an important crossover movie, which will bring Ben Affleck and Michael Keaton's respective Batmans together for the first time. It's assumed that The Flash therefore plays a significant role in the future of DC's movie slate.
Meanwhile, unlike the reports of Batgirl's screenings, test audiences for The Flash are said to have enjoyed the movie, which is no doubt a key factor in Warner Bros.' decision to go ahead with its release.
Ezra has not publicly commented on any of the allegations against them, and their representatives have not responded to requests for comment. However, in June a source told Variety that "Miller hopes to address the allegations at some point, but they have chosen to privately focus on their health and healing over the coming months."


Read the full article here
Billie Eilish performs remotely during star-studded Earthshot Prize ceremony
Tania Leslau

Billie Eilish was headlining Prince William's second annual Earthshot Prize ceremony awards in Boston on Friday night

Billie Eilish kept it simple for her remote performance at Prince William's Earthshot Prize awards ceremony on Friday evening, wearing a comfortable grey sweatshirt as she sat at her piano to sing 'My Future'.
LOOK: Princess Kate is a tour de force in surprisingly flamboyant suit
The Grammy-award winner was part of a stellar line-up that included Annie Lennox, Ellie Goulding and the Beyoncé-backed R&B duo Chloe x Halle that performed during the event.
WATCH: Billie Eilish opens up about 'exhausting' syndrome
Billie prerecorded her performance of 'My Future' from her home in Los Angeles, and she was joined by her brother Finneas.
The Prince and Princess of Wales were greeted with a standing ovation as they took to stage for the start of the ceremony, which referenced the colonists who came to Boston 400 years ago. Elizabeth Solomon, a member of the Massachusetts tribe at Ponkapoag, asked attendees to "respect the lands and waters".
LOOK: Pippa Middleton turns heads in Karen Millen coat that's selling out quickly
Dubbed Prince William's "Superbowl moment," the glitzy ceremony drew an A-list crowd at the MGM Music Hall at Fenway in Boston. Among those presenting awards were Oscar-winning actor Rami Malek, Home Alone and Schitt's Creek star Catherine O'Hara and environmental activist and Big Little Lies star Shailene Woodley.
Earthshot Prize council members Sir David Attenborough and Cate Blanchett will both provide voiceovers during the ceremony, which will be presented by UK broadcaster Clara Amfo and US actor Daniel Dae Kim.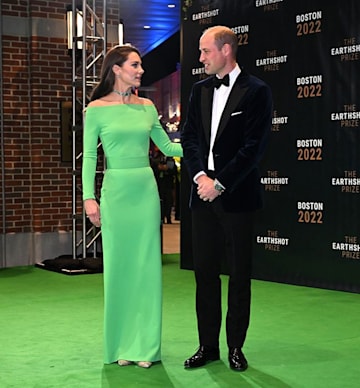 Ambassador Caroline Kennedy, daughter of President John F Kennedy, whose "Moonshot" speech about space travel inspired the Earthshot prize, will also take part with her son Jack Schlossberg, JFK's only grandson. 
The ambitious, decade-long, global Prize programme aims to discover and scale up solutions to the planet's biggest environmental challenges.
Among the ideas competing this year are a cleaner-burning stove initiative in Kenya and a bubble barrier made in the Netherlands to prevent plastics entering oceans.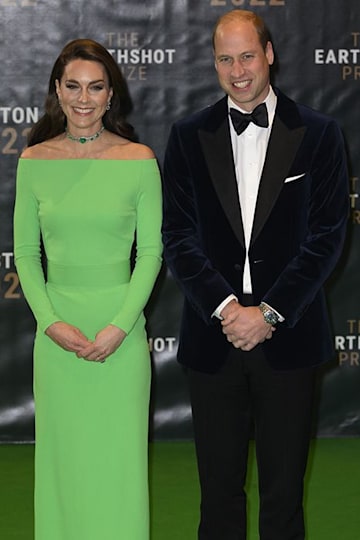 William described the finalists as "innovators, leaders, and visionaries" and said they proved there are "many reasons to be optimistic about the future of our planet".
READ: Princess Beatrice looks sultry in satin on festive night out with husband
He went on to say: "They are directing their time, energy, and talent towards bold solutions with the power to not only solve our planet's greatest environmental challenges, but to create healthier, more prosperous, and more sustainable communities for generations to come."
Like this story? Sign up to our HELLO! Mail newsletter to receive all the latest royal and celebrity news straight in your inbox.


Read the full article here
Watch T.J Holmes and Amy Robach joke about their 'great week' after romance reports
Rebecca Lewis

GMA anchors T.J Holmes and Amy Robach break silence on their 'great week' after romance emerges

GMA anchors T.J Holmes and Amy Robach have broken their silence, joking that they have had a "great week" after reports of an affair between the two.
TRENDING: Amy Robach's husband removes all pictures of GMA anchor after T.J Holmes affair
"You know, it's too bad it's Friday. It's been a great week" said 45-year-old T.J live on air on Friday morning. "I just want this one to keep going and going and going. Just enjoy it! Take it all in."
WATCH: GMA anchors T.J Holmes and Amy Robach break silence on their 'great week' after romance emerges
Amy then began laughing and added: "Speak for yourself. I am very excited about the weekend — and I'm sure everyone else is too. We all love our Fridays around here. Some of us do, at least."
Their public banter about the romance came after the Daily Mail published pictures of Amy and T.J. in upstate New York on a romantic getaway together. 
MORE: Dylan Dreyer is glowing as she shares very happy update
In the pictures T.J. could be seen grabbing Amy's bottom as they removed groceries from the car, and another snapshot showed them holding hands in a vehicle in the city.
Hours after the report broke, both of the anchors removed their personal Instagram pages.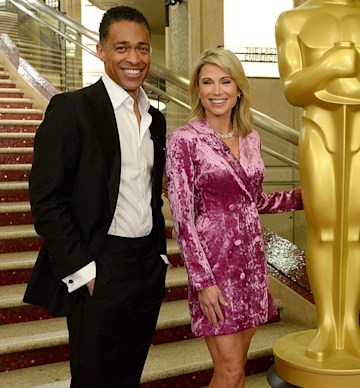 The pair have been co-anchors for years
It has since been claimed that both Amy and T.J split from their respective partners in August and no romance between the pair began until then.
They returned to TV screens on Thursday after the reports surfaced, leaving fans – who thought they may have taken the day off to navigate news of their extra-marital connection – shocked.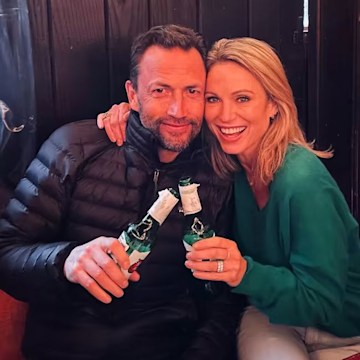 Both Amy and T.J are now estranged from their families
Amy had been married to actor Andrew for 12 years. She has two daughters, Annie and Ava, from her former marriage to Tim McIntosh, and she has also been a stepmother to Andrew's three sons.
T.J tied the knot with his wife, Marilee Fiebig, in 2010 and they have a daughter, Sabine. T.J. is also father to two other children, daughter Brianna, and son Jaiden.


Read the full article here
Savannah Guthrie's bittersweet Christmas revealed as she opens up about the holidays with her family – exclusive
Hannah Hargrave

NBC Today star Savannah Guthrie has detailed why her Christmas will be bittersweet amid her health crisis

Savannah Guthrie adores the holiday season and does everything she can to make it a magical time for her two children, Vale and Charley. 
However, her passion for Christmas is bittersweet as it also marks an emotional day for her family. 
TRENDING NOW: Savannah Guthrie's reason for absence revealed as she shares bedridden photo 
The star lost her dad when she was a teenager and she spoke to HELLO! about why the festive period is so bittersweet.
WATCH: Savannah Guthrie's home life with family – everything we know 
"Christmas is always a very special time in my family," she said. "My father was born on Christmas and it was his favorite holiday too. It had a magic around it and I try to recreate that for my kids." 
Savannah's dad passed away in 1988 when she was only sixteen-years-old after suffering an unexpected heart attack.
EXCLUSIVE: Savannah Guthrie reveals shock inhury on cooking show 
EXCLUSIVE: Savannah Guthrie shares husband's hilarious reaction to new Christmas tradition
The mom-of-two often remembers him with fondness and while it's sad that he isn't there to celebrate, she does all that she can to make their own traditions as a family. 
Savannah's father died when she was 16 years old 
Speaking of her children, she ontinued: "I want them to feel it's as much of a magical time as I always felt and treasured. I want to keep the old traditions alive but also start new ones."
She then elaborated on those traditions when she said: "We never wore matching PJs when I was little. Now we are doing it."
MORE: Today's Jenna Bush Hager shares never-before-seen photos to mark 41st birthday
POPULAR: Today Show surprises with live wedding ceremony on program
Not that her husband Michael is very impressed with the decision. "And there is my husband, and he's wearing these ridiculous things and then I put it on Instagram," Savannah said with a laugh. "He's like 'What are you doing? What about my reputation for coolness'. And I'm like, 'Well, you never had it.'"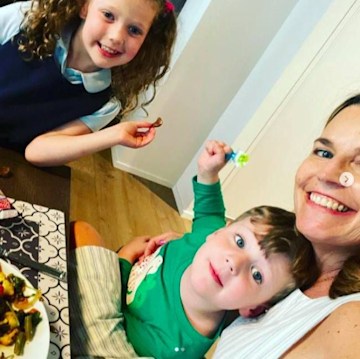 Savannah wants to make Christmas as magical as she can for her children
Savannah is currently dealing with a difficult illness which means she missed the annual Rockefeller Christmas Tree Lighting. 
She updated fans from her bed where she revealed she had a fever and was feeling pretty under the weather in an Instagram post.
In her caption, she wrote: "UGH – flu or something like it since Monday. I'm so sad to miss the tree lighting and TODAY." 
The longtime host added: "Hopefully it passes soon! Miss everyone."
Read more HELLO! US stories here
Like this story? Sign up to our HELLO! Mail newsletter to receive all the latest royal and celebrity news straight in your inbox.


Read the full article here