Manti Te'o, The Internet's Most Notorious Catfishing Victim, Finally Speaks
While the bulk of the documentary presents an in-depth version of the story we're familiar with, its most compelling new material chronicles the aftermath. At its core, this is a story about two young people healing from the damage of experiences the rest of us are only beginning to understand.
After everything went down, Naya went to American Samoa, where she found an LGBTQ community that helped her feel comfortable transitioning. She was so removed from public view that nobody else in the film has any idea what her life has been like in recent years. Early on, the documentary provides a disclosure noting that its interview subjects misgender her and refer to her by her deadname because they weren't aware she is trans. This unfortunate complication neuters some of the potency from the film's heartfelt final moment; Te'o forgives Naya, but doesn't use the correct pronouns.
That show of grace offers a useful resolution to the story, but it's clear the emotions are still raw, the process ongoing. Naya speaks about Te'o with the tenderness befitting an ex you still have love for. Te'o's voice catches and he starts to cry when he tries to talk about the moment he found out that Lennay had died. Lost in the messy details that absorbed our attention was the fundamental reality that this saga began as a tale about two teens in love and ended with their three-year relationship shattering suddenly and traumatically. Whatever might have been fake about it, the feelings were as real as can be.
With news cameras swarming, the life-changing money of a professional football career on the line, and his golden reputation shredded into a heap of mockery, 21-year-old Te'o was left to unpack the realization that his most serious adolescent romance was with a man, grappling with a worldview shaped in a generation that grew up using "gay" as a generic slur, a sport that prized hypermasculinity, and a religious faith that didn't recognize marriage for same-sex couples.
For Te'o, months of mourning his grandmother and girlfriend were immediately followed by months of being the subject of one of the most embarrassing public spectacles in recent memory, one that ultimately cost him millions of dollars because it seemed to contribute to him getting selected later in the NFL Draft.
He became famous beyond the sports page for his displays of emotional resilience, only to become infamous for an incident that tested that emotional resilience.
We are familiar with people persevering through certain kinds of tragedies. An athlete's loved one dies and they play in their honor, inspiring all. In high school, Chris Paul scored 61 points after his 61-year-old grandfather died. With "RIP Sis" scrawled in marker on his sneakers, Isaiah Thomas scored 33 points in a playoff game the night after his sister died in a car crash. Brett Favre threw for 399 yards and four touchdowns the day after his dad died. Many other such performances are etched into sporting lore.
Those stories are moving, and we like them because we all have loved ones die and must manage to move forward. Te'o was the latest in a long line of tropes, playing through the grief with a sacred purpose. He might have never been through something like that before, but he had seen others go through it, and he knew how he was supposed to carry himself, what he was supposed to do, how to properly honor them.
But there was no script for what came next. "I didn't know who to talk to," Te'o says in the doc, explaining that he did whatever his crisis management consultants advised. "Honestly, I didn't wanna say anything." It was such a big story because we had never seen such a thing at such a scale. Dude was in uncharted waters. This wasn't about persevering in the wake of tragedy, or asking for forgiveness after immoral acts, or rebranding a persona associated with a toxic reputation. This was about getting clowned pure and simple, your most embarrassing experience broadcast for everybody to see on the biggest stage, a show starring you but the jokes are on you, all happening back when we were so enthusiastic and relentless and extra snarky on the internet, when those mass pile-ons still felt novel, maybe even harmless.
Read the full article here
Al Roker returns to social media with emotional tribute from his NBC co-stars
Hanna Fillingham

Today's Al Roker has broken his silence with a new message as he recovers from complications from blood clots on his lungs

Al Roker is currently back in hospital following complications from having blood clots on his lungs.
TRENDING NOW: NCIS fans delighted as beloved character returns to show
The Today star is incredibly missed by his fans and co-stars – and was feeling all the love on Monday.
So much so, that Al – who has been keeping a low profile while he recovers – took to Instagram to re-share a video that his colleagues at NBC had made for him.
VIDEO: Al Roker's rise to fame – from his early career to the Today Show
The footage was shared on Al's Instagram Stories, subtly showing that the star had not only watched it, but was thankful for it.
MORE: Al Roker's daughter shares update after dad rushed back to hospital
MORE: Al Roker's latest job will leave you in awe – and it's for a good cause 
NBC News' Tevin Wooten had been the one to share the heartfelt footage, alongside the message: "The entire weather division at NBC & Telemundo is thinking about our pal, Al Roker."
Al's Today co-hosts had also been thinking of him on Monday, and made sure that they didn't leave him out of their holiday video card.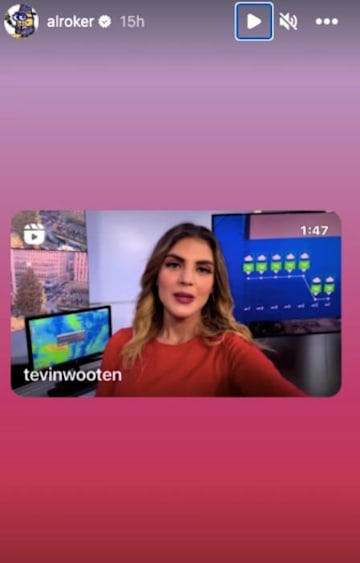 Al Roker returned to social media to share a heartfelt video from his NBC co-stars
The Love Actually inspired video saw Savannah Guthrie, Hoda Kotb, Dylan Dreyer, Sheinelle Jones, Craig Melvin and Jenna Bush Hager all take part.
EXCLUSIVE: Savannah Guthrie's injury revealed BTS on her cooking show
MORE: Al Roker encourages fans to conquer stress as he takes time off Today
Not wanting to miss Al, the group included the beloved weatherman by creating cutouts of his face for everyone to hold.
Al's wife Deborah Roberts, meanwhile, appeared to give a positive update after visiting her husband over the weekend.
Alongside a photo of a coffee cup, she wrote on Instagram Stories: "Faith and gratitude." The journalist later posted a picture of the TV screen while back at home, showing the Georgia Bulldogs winning against the LSU Tigers. "A good day all around!" she wrote, suggesting that there had been some positive news about Al too.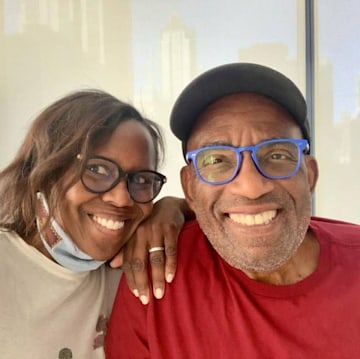 The Today star with wife Deborah Roberts 
Deborah had also shared a reflective post last week, posting a picture of the turning leaves in New York, where the family lives, and wrote: "So grateful for the love."
MORE: Today Show surprises with live wedding ceremony on program
MORE: Hoda Kotb hosts Today alone as she delivers heartbreaking news
She didn't elaborate on Al or how he was feeling but earlier that day she had also shared a snapshot of a TV airing the Rockefeller Christmas Tree Lighting ceremony and she appeared to be in a hospital room.
Read more HELLO! US stories here 
Like this story? Sign up to our HELLO! newsletters to get other stories like this delivered straight to your inbox.


Read the full article here
Ashton Kutcher wipes away tears as he recalls brother's near-death experience
Phoebe Tatham

Ashton Kutcher has shared a deeply emotional insight into his twin brother's cerebral palsy condition and traumatic near-death experience – details

Ashton Kutcher has shared an emotional insight into his twin brother Michael's traumatic near-death experience.
MORE: Ashton Kutcher gushes over wife Mila Kunis in rare home video
In a joint interview with Dr. David Agus, the siblings discussed Michael's cerebral palsy condition and subsequent heart transplant.
WATCH: Mila Kunis and Ashton Kutcher share emotional video
Touching on his brother's near-death experience, Ashton revealed: "My dad comes, picks me up, and it's like, we're going to go see your brother and I'm like… everything is not okay. And he flatlines in the room."
MORE: All we know about A-list couple Mila Kunis and Ashton Kutcher's relationship and marriage
MORE: Ashton Kutcher reveals the unexpected way he first told Mila Kunis he loved her
The actor went on to say: "I know that noise because now I've been visiting occasionally and watching the thing go and it flatlines out. And they're like, 'You've got to [go],' and they're grabbing me, and they take me out and I'm like, 'what the hell is going [on]?'"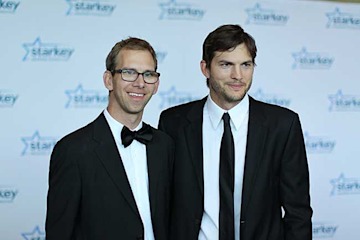 The brothers appeared in their first joint interview with Dr. David Agus
In the moving clip, Ashton could be seen wiping away tears as his brother raced to comfort him.
Elsewhere in the interview, the That 70's Show star reflected on his own personal health battle with vasculitis – a rare autoimmune disease affecting the blood vessels.
"I was unable to walk and then suddenly you can't see," he revealed in the trailer.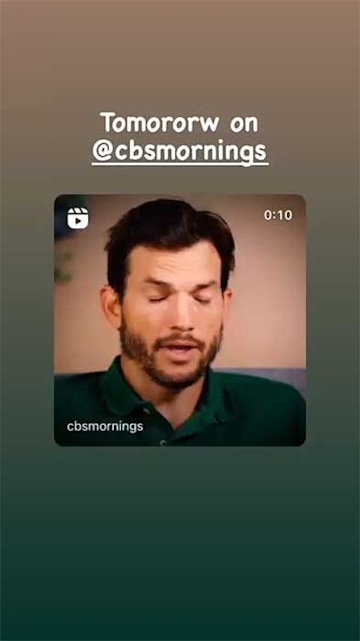 The actor welled up with emotion
Ashton continued: "When you have this face to face with death you instantly lock into what are you doing with today."
This isn't the first time the 44-year-old has lifted the lid on his health struggle. Appearing on Running Wild with Bear Grylls: The Challenge, the No Strings Attached actor explained how he's "lucky to be alive".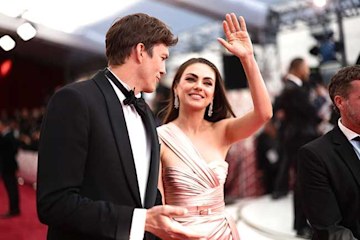 Ashton and Mila tied the knot in 2015
"I had this weird, super rare form of vasculitis, that like knocked out my vision, it knocked out my hearing, it knocked out like all my equilibrium," he explained.
Reflecting on his scary ordeal, Ashton went on to say: "You don't really appreciate it, until it's gone… Until you go, 'I don't know if I'm ever going to be able to see again, I don't know if I'm ever going to be able to hear again, I don't know if I'm ever going to be able to walk again.'"
Read more HELLO! US stories here 


Read the full article here
Strictly's Rose Ayling-Ellis addresses split from ex-boyfriend Sam Arnold for the first time
Sharnaz Shahid

Strictly Come Dancing champion Rose Ayling-Ellis has finally opened up about her breakup from ex-boyfriend Sam Arnold…

Rose Ayling-Ellis has been enjoying a meteoric rise in her career over the past 12 months, however, the reigning Strictly Come Dancing champion prefers to keep her private life away from the spotlight.
The actress, 28, won a huge legion of fans after she danced her way to victory alongside Giovanni Pernice, becoming the first deaf contestant to appear on – and win – Strictly last year.
WATCH: Giovanni Pernice has paid the sweetest tribute to Rose Ayling-Ellis
Despite the win, Rose suffered heartache when split up with her boyfriend of seven years, Sam Arnold. It was reported in September that they parted ways due to Rose's busy schedule.
Speaking about their split for the first time this week, Rose told The Telegraph: "I felt, from the start, like I had known him for a very, very long time… if that's part of what 'love at first sight' can mean?"
ROSE GETS CANDID: Strictly star reflects on special bond with Giovanni Pernice
MORE ON ROSE AND GIOVANNI: The sweetest things they have said about each other
Probed further, the star – who is now appearing West End show As You Like It – shut down any attempt to discuss her private life because "if I do that then I can't switch off when I go home".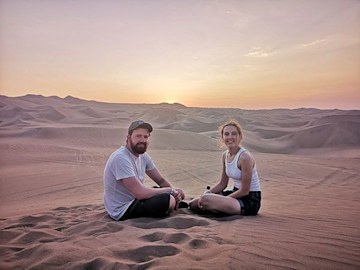 Rose and Sam parted ways earlier this year
"I'd rather talk about my career, because I am really proud of it," she added. "I'm proud of the hard work and I'm so glad I am deaf, because it gives me a purpose. I want to build the ladder and climb up it and leave it behind me for others to follow."
IN-DEPTH: Rose Ayling-Ellis holds 'deep affection' for Strictly's Giovanni Pernice
When Rose joined Strictly, it was clear Sam was a supporter of Rose's from afar. During the final, he made a rare public appearance in the crowd to cheer her and her dance partner Giovanni on. The trio also enjoyed a fun dinner date in celebration of the actress' 27th birthday.
Before joining the show, Rose did share a photo of the pair to celebrate their six years together. Alongside a photo of the two of them on a trip, she wrote on Instagram in 2020: "Six years we been together and I still don't find you annoying."
Like this story? Sign up to our HELLO! newsletters to get other stories like this delivered straight to your inbox.


Read the full article here