Kylie Minogue pays emotional tribute to Olivia Newton-John
Ahad Sanwari

Kylie Minogue paid an emotional tribute to fellow Australian musician and friend Olivia Newton-John following news of her passing

Kylie Minogue took to social media to pay a heartbreaking tribute to Olivia Newton-John upon learning of her passing.
MORE: Olivia Newton-John passes away at age 73
She shared a black and white photograph on social media alongside which she wrote: "Since I was ten years old, I have loved and looked up to Olivia Newton-John. And, I always will. (Just like this picture @nfsaonline) She was, and always will be, an inspiration to me in so many, many ways. My deepest condolences to her family and loved ones. X ONJ4EVA @therealonj". 
VIDEO: Olivia Newton-John gets real about her cancer diagnosis
The singer's husband, John Easterling, announced the heartbreaking news on Monday, August 8, alongside a photograph of her on Instagram and an emotional statement.
It read: "Dame Olivia Newton-John (73) passed away peacefully at her Ranch in Southern California this morning, surrounded by family and friends. We ask that everyone please respect the family's privacy during this very difficult time.
MORE: John Travolta mourns loss of Grease co-star Olivia Newton-John following her death
"Olivia has been a symbol of triumphs and hope for over 30 years sharing her journey with breast cancer. Her healing inspiration and pioneering experience with plant medicine continues with the Olivia Newton-John Foundation Fund, dedicated to researching plant medicine and cancer. 
Kylie penned an emotional tribute
"In lieu of flowers, the family asks that any donations be made in her memory to the @onjfoundation."
It continued: "Olivia is survived by her husband John Easterling; daughter Chloe Lattanzi; sister Sarah Newton-John; brother Toby Newton-John; nieces and nephews Tottie, Fiona and Brett Goldsmith; Emerson, Charlie, Zac, Jeremy, Randall, and Pierz Newton-John; Jude Newton-Stock, Layla Lee; Kira and Tasha Edelstein; and Brin and Valerie Hall."
MORE: Kylie Minogue reveals 'tears' during Neighbours finale as she shares wedding photo
MORE: Olivia Newton-John opens up about health amid cancer battle
The Grease star passed away after a decades-long battle with breast cancer, and although she was on the road to recovery, she'd spoken about how much it affected her.
Having both risen to prominence in the 80s in the Australian and then international music scene, the two have been constantly supportive of each other's journeys.
Olivia's husband announced the news
They've also been public about their support for one another, with Kylie even giving Olivia a shout-out on her 70th birthday, writing: "Happiest of birthdays to the one and only ONJ."
Read more HELLO! US stories here
Like this story? Sign up to our newsletter to get other stories like this delivered straight to your inbox.


Read the full article here
Al Roker returns to social media with emotional tribute from his NBC co-stars
Hanna Fillingham

Today's Al Roker has broken his silence with a new message as he recovers from complications from blood clots on his lungs

Al Roker is currently back in hospital following complications from having blood clots on his lungs.
TRENDING NOW: NCIS fans delighted as beloved character returns to show
The Today star is incredibly missed by his fans and co-stars – and was feeling all the love on Monday.
So much so, that Al – who has been keeping a low profile while he recovers – took to Instagram to re-share a video that his colleagues at NBC had made for him.
VIDEO: Al Roker's rise to fame – from his early career to the Today Show
The footage was shared on Al's Instagram Stories, subtly showing that the star had not only watched it, but was thankful for it.
MORE: Al Roker's daughter shares update after dad rushed back to hospital
MORE: Al Roker's latest job will leave you in awe – and it's for a good cause 
NBC News' Tevin Wooten had been the one to share the heartfelt footage, alongside the message: "The entire weather division at NBC & Telemundo is thinking about our pal, Al Roker."
Al's Today co-hosts had also been thinking of him on Monday, and made sure that they didn't leave him out of their holiday video card.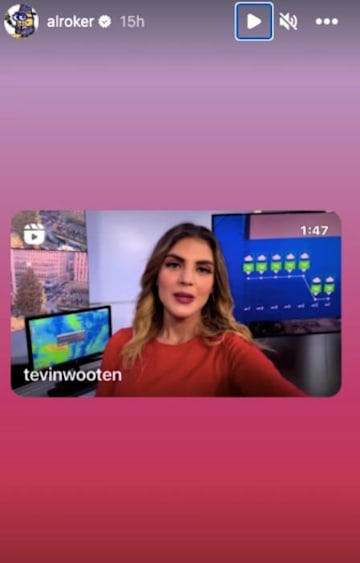 Al Roker returned to social media to share a heartfelt video from his NBC co-stars
The Love Actually inspired video saw Savannah Guthrie, Hoda Kotb, Dylan Dreyer, Sheinelle Jones, Craig Melvin and Jenna Bush Hager all take part.
EXCLUSIVE: Savannah Guthrie's injury revealed BTS on her cooking show
MORE: Al Roker encourages fans to conquer stress as he takes time off Today
Not wanting to miss Al, the group included the beloved weatherman by creating cutouts of his face for everyone to hold.
Al's wife Deborah Roberts, meanwhile, appeared to give a positive update after visiting her husband over the weekend.
Alongside a photo of a coffee cup, she wrote on Instagram Stories: "Faith and gratitude." The journalist later posted a picture of the TV screen while back at home, showing the Georgia Bulldogs winning against the LSU Tigers. "A good day all around!" she wrote, suggesting that there had been some positive news about Al too.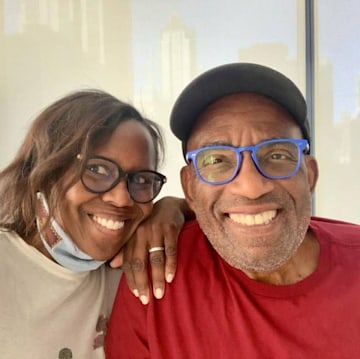 The Today star with wife Deborah Roberts 
Deborah had also shared a reflective post last week, posting a picture of the turning leaves in New York, where the family lives, and wrote: "So grateful for the love."
MORE: Today Show surprises with live wedding ceremony on program
MORE: Hoda Kotb hosts Today alone as she delivers heartbreaking news
She didn't elaborate on Al or how he was feeling but earlier that day she had also shared a snapshot of a TV airing the Rockefeller Christmas Tree Lighting ceremony and she appeared to be in a hospital room.
Read more HELLO! US stories here 
Like this story? Sign up to our HELLO! newsletters to get other stories like this delivered straight to your inbox.


Read the full article here
Ashton Kutcher wipes away tears as he recalls brother's near-death experience
Phoebe Tatham

Ashton Kutcher has shared a deeply emotional insight into his twin brother's cerebral palsy condition and traumatic near-death experience – details

Ashton Kutcher has shared an emotional insight into his twin brother Michael's traumatic near-death experience.
MORE: Ashton Kutcher gushes over wife Mila Kunis in rare home video
In a joint interview with Dr. David Agus, the siblings discussed Michael's cerebral palsy condition and subsequent heart transplant.
WATCH: Mila Kunis and Ashton Kutcher share emotional video
Touching on his brother's near-death experience, Ashton revealed: "My dad comes, picks me up, and it's like, we're going to go see your brother and I'm like… everything is not okay. And he flatlines in the room."
MORE: All we know about A-list couple Mila Kunis and Ashton Kutcher's relationship and marriage
MORE: Ashton Kutcher reveals the unexpected way he first told Mila Kunis he loved her
The actor went on to say: "I know that noise because now I've been visiting occasionally and watching the thing go and it flatlines out. And they're like, 'You've got to [go],' and they're grabbing me, and they take me out and I'm like, 'what the hell is going [on]?'"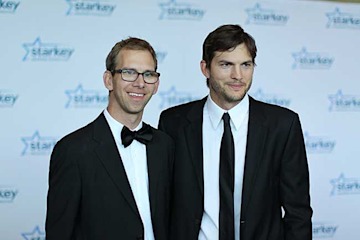 The brothers appeared in their first joint interview with Dr. David Agus
In the moving clip, Ashton could be seen wiping away tears as his brother raced to comfort him.
Elsewhere in the interview, the That 70's Show star reflected on his own personal health battle with vasculitis – a rare autoimmune disease affecting the blood vessels.
"I was unable to walk and then suddenly you can't see," he revealed in the trailer.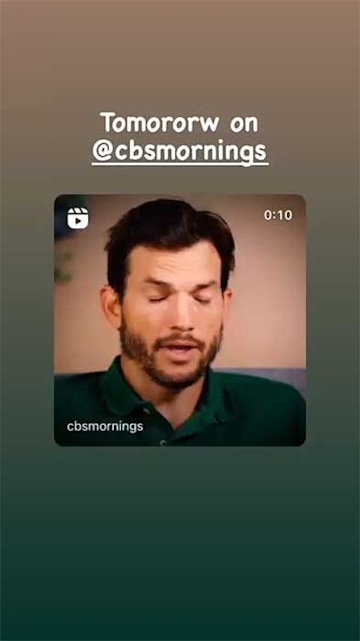 The actor welled up with emotion
Ashton continued: "When you have this face to face with death you instantly lock into what are you doing with today."
This isn't the first time the 44-year-old has lifted the lid on his health struggle. Appearing on Running Wild with Bear Grylls: The Challenge, the No Strings Attached actor explained how he's "lucky to be alive".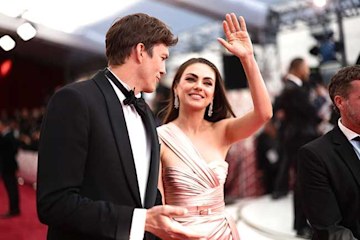 Ashton and Mila tied the knot in 2015
"I had this weird, super rare form of vasculitis, that like knocked out my vision, it knocked out my hearing, it knocked out like all my equilibrium," he explained.
Reflecting on his scary ordeal, Ashton went on to say: "You don't really appreciate it, until it's gone… Until you go, 'I don't know if I'm ever going to be able to see again, I don't know if I'm ever going to be able to hear again, I don't know if I'm ever going to be able to walk again.'"
Read more HELLO! US stories here 


Read the full article here
Strictly's Rose Ayling-Ellis addresses split from ex-boyfriend Sam Arnold for the first time
Sharnaz Shahid

Strictly Come Dancing champion Rose Ayling-Ellis has finally opened up about her breakup from ex-boyfriend Sam Arnold…

Rose Ayling-Ellis has been enjoying a meteoric rise in her career over the past 12 months, however, the reigning Strictly Come Dancing champion prefers to keep her private life away from the spotlight.
The actress, 28, won a huge legion of fans after she danced her way to victory alongside Giovanni Pernice, becoming the first deaf contestant to appear on – and win – Strictly last year.
WATCH: Giovanni Pernice has paid the sweetest tribute to Rose Ayling-Ellis
Despite the win, Rose suffered heartache when split up with her boyfriend of seven years, Sam Arnold. It was reported in September that they parted ways due to Rose's busy schedule.
Speaking about their split for the first time this week, Rose told The Telegraph: "I felt, from the start, like I had known him for a very, very long time… if that's part of what 'love at first sight' can mean?"
ROSE GETS CANDID: Strictly star reflects on special bond with Giovanni Pernice
MORE ON ROSE AND GIOVANNI: The sweetest things they have said about each other
Probed further, the star – who is now appearing West End show As You Like It – shut down any attempt to discuss her private life because "if I do that then I can't switch off when I go home".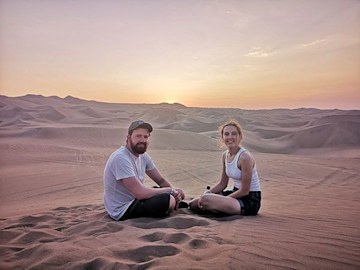 Rose and Sam parted ways earlier this year
"I'd rather talk about my career, because I am really proud of it," she added. "I'm proud of the hard work and I'm so glad I am deaf, because it gives me a purpose. I want to build the ladder and climb up it and leave it behind me for others to follow."
IN-DEPTH: Rose Ayling-Ellis holds 'deep affection' for Strictly's Giovanni Pernice
When Rose joined Strictly, it was clear Sam was a supporter of Rose's from afar. During the final, he made a rare public appearance in the crowd to cheer her and her dance partner Giovanni on. The trio also enjoyed a fun dinner date in celebration of the actress' 27th birthday.
Before joining the show, Rose did share a photo of the pair to celebrate their six years together. Alongside a photo of the two of them on a trip, she wrote on Instagram in 2020: "Six years we been together and I still don't find you annoying."
Like this story? Sign up to our HELLO! newsletters to get other stories like this delivered straight to your inbox.


Read the full article here