Kylie Jenner Called Out After Posting A Video In Her Cosmetics Lab Without A Hairnet Or Gloves
"In the lab creating new magic for you guys 💕"
In 2015, Kylie Jenner launched her Kylie Cosmetics empire at the age of 18.
She kicked off by selling lip kits, and her millions of dedicated fans across the world saw it become an instant success.
As a result, Kylie has since branched out into many other products, including eyeshadow palettes, highlighters, and skincare.
And seven years later, Kylie wants to prove that she is just as involved with her company as she was when it all began. So she documented her brief trip to the Milan factory to give her followers a glimpse behind the scenes.
The billionaire entrepreneur shared a short vlog from the trip on TikTok, where she explained that she was only in the Italian city for 24 hours.
"To visit all of the make-up factories," she added. "To check on new Kylie Cosmetics stuff coming that I'm very excited about."
Once inside the factory, Kylie could be seen wearing a white lab coat as she observed and worked with some of the products' ingredients.
Kylie was filmed mixing what appeared to be a shimmer and powder, as well as some kind of concealer or foundation.
At one point, she took a swab of product out of the container and dabbed it on her hand to test the coverage, and the video ended with her checking out a pressed powder.
"Perfecting new @kyliecosmetics in italy today 💕," she captioned the TikTok.
Over on her Instagram page, Kylie shared some photos alongside the video clips from the factory, writing: "In the lab creating new magic for you guys 💕 better than ever. @kyliecosmetics."
But her followers were less than impressed by the video, with many pointing out that she was mixing and handling products while ignoring basic health and safety procedures.
In fact, they noted that aside from the lab coat, Kylie wasn't wearing any PPE — including a hairnet and gloves.
Instead, her long dark hair was loose and tumbling over her shoulders in many of the shots, and Kylie's long, manicured nails were also exposed with jewelry on her fingers.
Her Instagram post was quickly flooded with comments from followers pointing this out, with some asking if they should expect Kylie's hair in the new products.
"I just see so many lab rules not being followed," one fan remarked.
She was even called out by Emmy Award–winning makeup artist Kevin James Bennett, who commented: "Working with cosmetic manufacturers (and their labs) is part of my job. I have very short hair, and I've NEVER been allowed into the lab without a hair net…AND GLOVES."
"Why are you gaslighting your followers?" he asked. "And what ignorant lab let you touch things without following proper sanitation protocols?"
And it wasn't long before the discourse made its way over to Reddit, with many criticizing Kylie for not practicing proper sanitation protocols while in the factory.
"I love the smell of contamination in the morning," one person wrote. Another added: "My first thoughts & feelings as well. The hair, eyes, clothes. She's a hazard."
Another commented: "Put your gloves on! We don't know what's under those fake nails?!" Meanwhile, someone else addressed the hair, writing: "That hair just dragging over everything 💀"
Some pointed out that other influencers with makeup lines have also been to their factories but managed to follow proper protocol, unlike Kylie.
"Sis hair everywhere?!" one user wrote. "I bring up Jeffree Star bc of the whole series w/ him in the lab w/ Shane Dawson to formulate their palette and they both even w/ short hair wore hair nets and protective gear when in the lab and on the production lines.."
One person replied: "Girl I thought the same thing!! Jeffree even had to take his long nails off before when he was going to the lab!"
As a result, it didn't take long for people to claim that the trip was nothing more than a staged photo op. "She could really make it more believable if she at least tied her hair up or something, this is just comical," one social media user commented.
"I feel like that's how you just know this is staged," another person went on. "There's no way she would be allowed to walk around like that if these were actually products to be sold."
And considering the recent scrutiny that Kylie has faced for her excessive use of her private jet, some were surprised that she'd openly post about taking a 13-hour flight for just 24 hours.
"Lmao she's gotten so much shit about flying for bullshit reasons and she just does it yet again. I bet she was there for like 5 min no longer than that," someone said.
Another popular comment read: "Flew all the way to Milan just to pretend she in the lab making new products that are going to end up being repeat colors of previously released products."
Kylie sparked fierce backlash last month when she was called out for regularly taking flights less than 15 minutes long. She ended up being branded "a full time climate criminal."
However, it was later revealed that on the list of celebs emitting the most CO2 through their private jet usage, Kylie hadn't even made the top 10.
Meanwhile, a report allegedly pointed to Taylor Swift as the celeb with the worst CO2 emissions so far this year, which were 1,000 metric tons more than the celebrity who placed second on the list, Floyd Mayweather.


Read the full article here
Brooke Shields rocks strapless gown for gorgeous Christmas picture
Rebecca Lewis

Brooke Shields shared throwback snaps to her time filming the Netflix holiday film A Castle for Christmas

Brooke Shields has shared a series of throwback snaps to her time filming the Netflix holiday film A Castle for Christmas, and in one rocked a gorgeous strapless tartan gown.
TRENDING: Gisele Bundchen reaches out to Tom Brady with surprisingly heartfelt gesture
"#ACastleForChristmas came out one year ago today!! Swipe to take a trip down memory lane, then watch it over on @netflix to get in the holiday spirit!" Brooke captioned the carousel of pictures that saw her riding a horse and posing with co-star Cary Elwes.
WATCH: Check out the trailer for A Castle For Christmas
But it was the tartan gown that had fans talking, as the dress featured a round low-cut neckline and a black satin skirt.
Fans were quick to comment with one joking that she was putting on a "gun show" with her toned arms on display. Others praised the movie, revealing their love for the film and sharing how it will "become a traditional watch" each festive season.
RELATED: Brooke Shields really turns up the heat with sensational swimsuit photo
SHOP: This budget 'Skims lookalike' Amazon bodysuit has gone viral – it has 18k 5-star reviews
At 57 Brooke had been wowing her fans for years with her gorgeous looks but in September she shocked followers when she posed in SKIMS for Kim Kardashian brand's debut bra campaign.
"I'm so honored and excited to be in @SKIMS first ever bra campaign," Brooke wrote alongside her Instagram snaps showing off the new underwear. "I can honestly say that these bras are something we can all feel confident and comfortable in."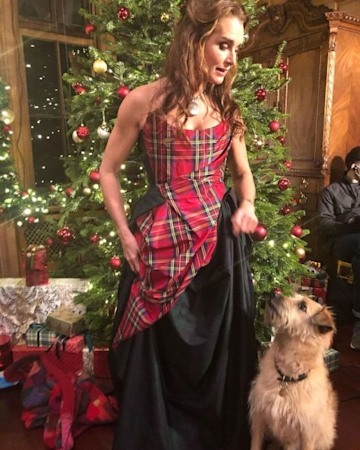 Brooke wowed fans in the tartan dress
Brooke recently explained that she feels that she's just now hitting her stride. "I just now feel as if I'm my most powerful and vibrant, and I'm not bogged down by the same insecurities or the same pettiness," she told MSNBC last year.
"I don't give a [expletive] the same way I did when I was a kid. I think I look sexier. I feel more myself. I feel like I'm living my life, according to my terms … It's an interesting thing to be 56 and saying, 'Now I'm ready to start.'"
Read more HELLO! US stories here
Like this story? Sign up to our newsletter to get other stories like this delivered straight to your inbox


Read the full article here
LeAnn Rimes gives special Thanksgiving shoutout to husband Eddie Cibrian's ex-wife Brandi Glanville
Rebecca Lewis

LeAnn Rimes surprises fans with Thanksgiving shoutout on Instagram to husband Eddie Cibrian's ex-wife RHOBH star Brandi Glanville

LeAnn Rimes has given a sweet shoutout to her husband Eddie Cibrian's ex-wife Brandi Glanville as she missed their family Thanksgiving.  On the special day LeAnn took to Instagram to post a picture of herself and Eddie and his two sons, Jake and Mason, and Eddie's parents.
TRENDING: Gisele Bundchen reaches out to Tom Brady with surprisingly heartfelt gesture
"'We can only be said to be alive in those moments when our hearts are conscious of our treasures,' -Thornton Wilder," LeAnn captioned the post, tagging the phrases 'Thanksgiving' and 'Thankful' before adding: "@brandiglanville we missed you."
WATCH: LeAnn Rimes performs 'beautiful' acoustic music in swimming pool
"Happy Thanksgiving! So thankful for you all. #modernfamily," Brandi commented in response and LeAnn replied with a heart emoji.
Brandi shared the same picture on her own account and revealed she was home sick and unable to join her sons and ex-husband. "Happy Thanksgiving to all! I missed my modern family today as I'm at home in bed with a cold. Love these people," she captioned her own post.
EXCLUSIVE: Today's Savannah Guthrie reveals husband's hilarious reaction to family's new Christmas tradition
TRENDING NOW: Madonna's rare photo with all six of her kids has fans asking questions
Their friendship has been built over the years following their contentious relationship when it emerged in 2009 that Eddie had been cheating on Brandi with LeAnn. Brandi and Eddie were married from 2001 to 2010, while LeAnn was married to her own husband Dean Sheremet and filed for divorce shortly after the news broke.
Eddie and LeAnn then wed in April 2011 and were in a public feud with Brandi for several years. However they came together over co-parenting Jake, 15, and 19-year-old Mason.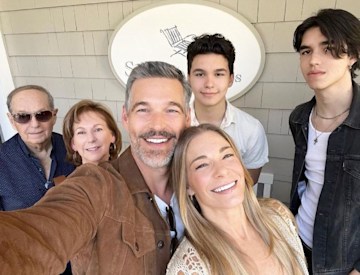 LeAnn shared this picture with fans and Brandi reposted it
"I love to see this!" commented one fan. "A willingness to grow and change for the better so that you and your ex and the new partner(s) are able to peacefully co-parent should always be applauded."
LeAnn recently turned 40 and released her fifteenth studio album, God's Work. She has been on a promotional tour for the record that recently took her to New York City, and she took a moment to express gratitude for where life had taken her.
"Couldn't have asked for a better way to release #godswork into the world. Blessed to be surrounded by the sweetest souls, who worked so hard to make it happen," she captioned the post.
Read more HELLO! US stories here
Like this story? Sign up to our newsletter to get other stories like this delivered straight to your inbox


Read the full article here
Paris Hilton wows fans with Baywatch-inspired swimsuit as she celebrates first wedding anniversary
Rebecca Lewis

Paris Hilton and husband Carter Reum have been celebrating their wedding anniversary in the Maldives.

Paris Hilton has been celebrating her wedding anniversary in the Maldives and gave fans a sneak peek at "paradise on Earth" when she shared a picture of herself rocking a bright red Baywatch-inspired swimsuit.
TRENDING: Gisele Bundchen reaches out to Tom Brady with surprisingly heartfelt gesture
In the picture Paris was in crystal clear blue waters and wore a Melissa Odabash red suit which featured a tie detail on the chest and ruffled sleeves. She paired the look with white heart-shaped sunglasses and wore her hair in a loose low bun, perfect for a day in the ocean.
WATCH: Paris Hilton stuns in bright pink wedding dress
"I've been all over the world and stayed at the most beautiful places. But I've never seen anything like the @IthaafushiPrivateIsland at @WaldorfAstoriaMaldives. This private island is truly Paradise on Earth!" she captioned the post.
Paris added: "So beautiful, romantic and relaxing here! Feels like a dream! I feel so lucky and blessed to be here with my love celebrating our anniversary."
EXCLUSIVE: Today's Savannah Guthrie reveals husband's hilarious reaction to family's new Christmas tradition
TRENDING NOW: Madonna's rare photo with all six of her kids has fans asking questions
Other pictures showed Paris lounging in a unicorn-shaped float while she also gave fans a glimpse into her evenings with husband Carter Reum, with the pair dressing up in their formal best for dinner.
In several pictures Paris wore a whimsical white maxi dress with floral detailing and a thigh-high split, paired with neutral wedges.
Paris shared a series of pictures with fans 
The trip comes after Paris addressed the speculation surrounding her fertility after her mom Kathy Hilton claimed her daughter was "struggling" to conceive her first child with her husband.
The 41-year-old took to her Instagram Stories to dismiss her mom's comments, revealing she and Carter were always planning to start their family after their first wedding anniversary which they celebrated in mid-November.
Paris also clarified that she is not experiencing fertility issues and has lots of "healthy embryos".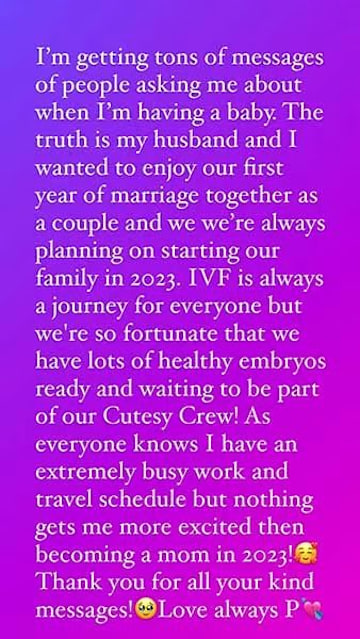 Paris addressed the rumors
"I'm getting tons of messages of people asking me about when I'm having a baby," she wrote. "The truth is. My husband and I wanted to enjoy our first year of marriage together as a couple and we were always planning on starting our family in 2023."
Revealing that the couple are using IVF, Paris added: "IVF is always a journey for everyone but we're so fortunate that we have lots of healthy embryos ready and waiting to be part of our Cutesy Crew!"
Paris concluded. "As everyone knows I have an extremely busy work and travel schedule, but nothing gets me more excited than becoming a mom in 2023. Thank you for all your kind messages!"
Read more HELLO! US stories here
Like this story? Sign up to our newsletter to get other stories like this delivered straight to your inbox


Read the full article here