Kim Just Showed Support For Kanye By Modeling His Yeezy Designs Amid Reports That They're "Very Civil"
At long last, it looks like Kim and Ye might finally be seeing eye to eye.
Nature is healing — Kim Kardashian is wearing Yeezy again.
Throughout her marriage to Kanye West, it was no secret that Kim was the ultimate Yeezy muse. She starred in iconic campaigns, sat front row at the runway shows, and was rarely spotted without rocking one of her husband's popular designs.
In fact, after being credited for leveraging her family's influence to boost the brand's mainstream success, Kim revealed in 2019 that she had actually been given shares in the company, making her one of the part owners along with Ye himself.
It's probably for this reason that even after the couple announced their split in February 2021, Kim didn't initially cut ties with the brand, still stepping out in Yeezy sneakers and promoting them on social media while she and Ye navigated the early stages of their divorce.
But, as I'm sure you'll remember, it wouldn't be long before things between the exes began to turn sour.
To make a long story short, their split got messy late last year after Ye began making a ton of public statements about his hopes of rekindling their marriage, despite the fact that Kim had already started dating Pete Davidson.
Ultimately, Ye resorted to publicly harassing both Kim and Pete on social media throughout February and March, even leaking their private messages and encouraging his fans to "scream" at them in public.
He was eventually banned from Instagram for 24 hours after violating the platform's harassment and bullying policies in March, and he's maintained a relatively low profile ever since.
With all this in mind, it'll come as no surprise to hear that Kim noticeably stopped repping Ye's brand in light of their public feud, opting instead to become the face of Balenciaga.
However, marking an interesting turning point in their messy divorce saga, Kim made a statement last week by promoting Yeezy for the first time since she and Ye came to blows.
And now, a week later, the Skims founder has shared more photographs from their visit — this time, featuring herself rocking some Yeezy shades along with North and 4-year-old Chicago.
As well as tagging Yeezy in the post, Kim also added the caption: "YR 3022 YEEZY SHDZ," making no secret of the fact that the look was designed by Ye.
What's more, they appear to be the exact same shades that Ye wore himself at a recent surprise performance at Rolling Loud Festival in July.
So, in light of the fact that Kim has distanced herself from Yeezy in the past year, it's very possible that their subtle twinning moment might be alluding to a friendly reconciliation between herself and Ye, particularly when we consider how meticulously she manages her social channels.
Of course, if you're wondering how she went from feuding with her ex to modeling his designs within the span of a few months, recent signs have suggested that Kim and Ye have been working on their relationship behind closed doors for some time now.
Kim posted a sweet message on Instagram at the time, calling Ye "the best dad," and several days later, during an appearance on the Today show, she revealed that "everything is going good" between them.
Shortly after this, Ye spoke publicly for the first time since serving his Instagram ban, confirming during a speech at the BET Awards that he had taken "a little hiatus" to work on himself after his feud with Kim and Pete.
Speaking onstage, he sounded noticeably upbeat and even cracked a joke about his failed marriage to Kim, making a quip about his "wife choices."
And now, the most recent update comes from a source who informed Us Weekly that things are officially looking up for Kimye as they reach the final stages of their divorce.
"Kim and Kanye have been coparenting very well as of late," the insider said. "They are very civil with each other and right now, there are no issues."
"They are both treating each other with mutual respect," the source added.
Well, 18 months after they filed for divorce, Kim's Yeezy look certainly marks a full circle moment.


Read the full article here
England and Chelsea star Mason Mount shares details on relationship status
Sharnaz Shahid

World Cup 2022: England and Chelsea player Mason Mount shares details on his relationship status after split from model Chloe Wealleans-Watts…

All eyes have been on Mason Mount every time he takes to the pitch during the World Cup, playing for England in their bid to become champions.
Ahead of the tournament kicking off, the Chelsea player – who has been dubbed one of the most eligible men in Britain – teamed up with fashion It girl Emilia Boateng in December's issue of Tatler. Find out all about his love life here…
WATCH: David Beckham's daughter Harper scores at goal at Wembley Stadium
"Football is my priority," he affirmed when asked about his relationship status. He does, however, occasionally go on dates. "Sometimes when I come up to London," the footballer notes, confirming he's not trawling through dating apps such as Tinder or Hinge.
MORE: David Beckham proves daughter Harper could be a future England footballer
READ: Inside the England Lionesses' homes – Beth Mead, Lucy Bronze, Millie Bright & more
The 23-year-old is now single, having previously dated model Chloe Wealleans-Watts after they got together in 2017. It's not known when the former couple parted ways.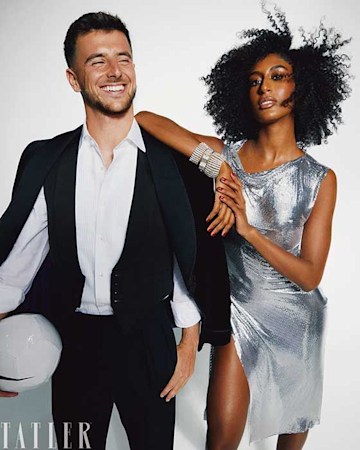 Mason Mount and Emilia Boateng feature in Tatler's latest issue photo credit – Ahmed Hassan
Mason, who is worth a reported £20 million, went on to comment on England's chances of winning following the Lionesses amazing win at the Euros.
"We want to win. And with the group we have, we can definitely do that," he added. "I feel like we're on the right path. We want to make the nation proud."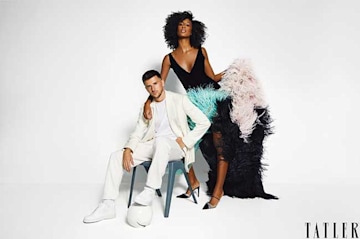 The footballer is set to play for England at the World Cup
Asked about what he thought of the Lionesses bringing football home before the boys did, Mason said: "Over the moon," explaining that he and fellow England player Phil Foden were watching the Euro 2022 final from a suite in Wembley Stadium.
"I was very lucky to be able to see what they did," he added. "It was amazing being a spectator. It was unbelievable. I was absolutely buzzing."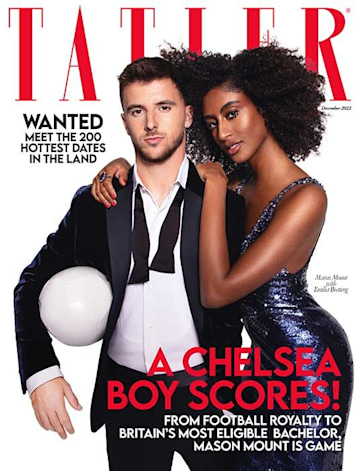 The pair featured in the December issue of Tatler
The sports star has represented England since he was 15, joining the senior side in 2019 when he was 20. He became part of the Euros team last year – with the team reaching the final at Wembley. "We were so close," he remarked. "That's what makes it so hard."
MORE: Prince William's sweet words to Lioness captain Leah Williamson revealed as they hugged at final
The December issue of Tatler featuring Little Black Book is available on newsstands and via digital download on 27 October.
Like this story? Sign up to our HELLO! Mail newsletter to receive all the latest royal and celebrity news straight in your inbox.


Read the full article here
Melanie Griffith shares rare 'thankful' photo with famous mom Tippi Hedren
Ahad Sanwari

Melanie Griffith sparked a big reaction with a rare photo alongside her iconic mom Tippi Hedren after the Thanksgiving weekend

Melanie Griffith had reason to be thankful over the extended holiday weekend, as she got to spend Thanksgiving with her family.
MORE: Melanie Griffith looks unrecognizable after head-turning transformation
Chief among them was her mom, legendary actress Tippi Hedren, and even posted a photo of the two relaxing together over the weekend.
VIDEO: Melanie Griffith presents mum Tippi Hedren with lifetime achievement award
While the two reclined on an animal-print laden bed, it was clear that they shared a close bond, and Melanie even wrote: "Thankful that my Mom is still here with us."
The 92-year-old icon garnered a strong reaction from fans and celebrities alike, many of whom still touted Tippi as being a beautiful figure.
MORE: Melanie Griffith's daughter Stella Banderas enjoys bikini-clad vacation with boyfriend
Even ex-husband Antonio Banderas left a comment which read: "Love for both of you ladies," while many left scores of heart emojis and Olivia Harrison wrote: "What a blessing."
A fan said: "So beautiful Melanie! You are so lucky to still have her. Happy Holidays, Beautiful!" while another added: "Thankful for you still having her. You are so blessed."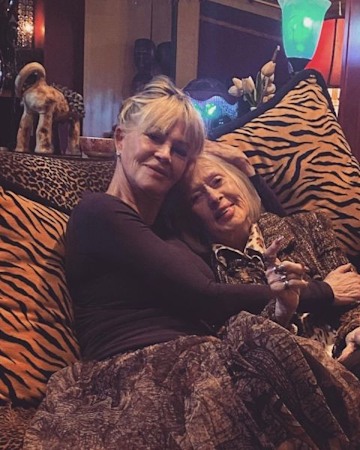 Melanie expressed her gratitude for still having her mother in her life
The actress is a mom herself to three children, eldest son Alexander Bauer with ex-husband Steven Bauer, Dakota Johnson with Don Johnson, and Stella Banderas with Antonio.
In fact, she got the opportunity to reunite with Don over the holiday weekend as they got together with several other members of the extended family.
MORE: Melanie Griffith stuns fans by stripping to underwear for candid photos
MORE: Exes Melanie Griffith and Don Johnson reunite for iconic family photo shoot
Some of their kids from their previous marriages were present as well, while Melanie even posed alongside Don's now wife Kelly Phleger as the two have maintained a strong familial relationship.
The entire group were even seen engrossed in board games in one photograph, showcasing that a good time was had by all in the blended family gathering.
The actress reunited with her ex-husband Don and their extended family over the holiday weekend
"A bunch of family moments. Grateful for each one of them. Laughter, memories, and love," the Oscar-nominated actress captioned her set of images, receiving a warm response from her followers.
Read more HELLO! US stories here
Like this story? Sign up to our newsletter to get other stories like this delivered straight to your inbox.


Read the full article here
David Muir kickstarts holiday prep in rare personal photograph
Ahad Sanwari

ABC and World News Tonight star David Muir shared a peek at his holiday prep with his latest rare personal photo

Leave it to David Muir to get an early head start on his holiday prep the week after Thanksgiving itself.
MORE: David Muir supports ABC co-star following difficult time in family
The World News Tonight anchor shared a rare personal photograph of himself while out shopping to decorate his home in time for Christmas.
VIDEO: David Muir's glimpse into his lavish home
He held aloft a pair of big bushy wreaths while at a Christmas tree farm, also dressed smartly in a brown jacket with a white tee and jeans, a much more casual look than what we're used to seeing him in.
David was getting into the holiday mood early, as he even captioned his photograph with: "Alright, let's bring some cheer."
MORE: David Muir will be reuniting with his GMA co-stars for a special reason in the near future
Many fans could quite easily relate as one commented: "Who's starting to decorate their Home with Christmas decorations yet ? I am."
Another added: "You succeeded! Very merry and bright!" while a third wrote: "Xmas Cheer when you are not working so many hours!!!"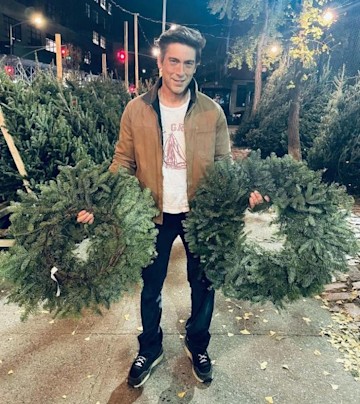 David got an early start to his holiday home prep
The decorations are likely to brighten up the journalist's expansive upstate New York estate near the water, which he shares with his beloved pet dog Axel and often hosts family and friends at.
While David is already looking forward to Christmas and some more holiday fun, he clearly had a relaxing and spirited start to the season.
MORE: David Muir sends love to Al Roker after concerning health update
MORE: David Muir divides fans following interview with former Vice President Mike Pence
In honor of Thanksgiving the previous Thursday, the ABC News anchor posted a beautiful photo of his older sister, Rebecca – and they look so alike!
Taking to his Instagram Stories, David shared a snapshot of his sibling setting the table for dinner. Rebecca looked beautiful in a black top as she arranged a bouquet of flowers for the centerpiece.
The ABC News anchor spent Thanksgiving with his family
"Happy Thanksgiving. My sister. Some flowers and a bunch of turkeys," David captioned the photo. He also shared a snapshot of Axel, which he captioned: "I got some turkey too because I'm a good boy."
Read more HELLO! US stories here
Like this story? Sign up to our newsletter to get other stories like this delivered straight to your inbox.


Read the full article here