Kelly Ripa's daughter Lola ventures into music with big announcement
Ahad Sanwari

Kelly Ripa and Mark Consuelos' daughter Lola Consuelos is following in her parents' footsteps by announcing her first single

Kelly Ripa and Mark Consuelos' three children are all in varying fields, with oldest son Michael an actor and aspiring filmmaker and youngest Joaquin a college wrestler.
MORE: Kelly Ripa's time off Live involves spending time with her family at their stunning vacation home
However, it's now their daughter Lola who's ready to enter the spotlight with her official venture into the music industry.
VIDEO: Kelly Ripa and Mark Consuelos' Love Story
After completing her studies in the area, Lola announced via TikTok that she would be releasing a new single in the coming week.
The 21-year-old shared a video of herself strolling at the beach with just her silhouette visible, wearing a sheer cover-up over a bathing suit.
MORE: Kelly Ripa announces Live Wire book tour and fans are too excited
Over an excerpt of the single playing in the background, Lola revealed that her song Paranoia Silverlining would be dropping on 9 August.
She immediately felt the support of family as well, with her father Mark taking to his Instagram Stories with a beachy snapshot to excitedly write: "@theyoungestyung First single out in 6 DAYS!!!"
Lola announced the coming of her new single via TikTok
The move comes while Kelly takes a temporary break from Live! to spend time with her sons and husband over the summer.
The Hope and Faith star is also preparing for her daughter's move abroad to study, which she revealed on her show on the day of her 21st birthday.
This will be the first time that Lola will have lived away from New York, having grown up there on the Upper East Side with her family, before moving to Bushwick to study. 
MORE: Kelly Ripa's famous sub revealed on Live as star enjoys well-deserved vacation
MORE: Kelly Ripa jokes about 'breakout star' father after latest TV appearance
Kelly told co-star Ryan Seacrest: "It is Lola Consuelos' 21 birthday. We are waiting for her to get back – she's in Europe right now."
She continued: "She's actually finding an apartment for her study abroad. I was like, 'That's funny. Normally people find apartments by going on online and finding an apartment online and then just showing up and being disappointed.'"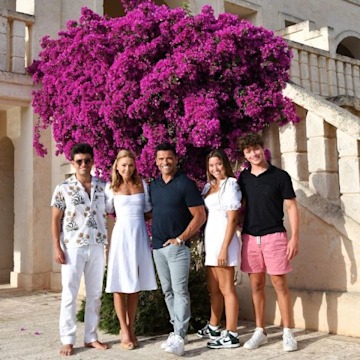 Kelly and Mark are now empty nesters
Kelly said that the trip is a "last hurrah. After that, she's off the family nipple, so to speak."
Read more HELLO! US stories here
Like this story? Sign up to our newsletter to get other stories like this delivered straight to your inbox.


Read the full article here
Michelle Obama mourns sad death of filmmaker Julia Reichert
Hannah Hargrave

Michelle and Barack Obama have delivered very sad news with an emotional tribute

Michelle Obama has paid tribute to Oscar-winning filmmaker, Julia Reichert, who died at the age of 76.
The former First Lady took to social media to share news that Julia had lost her battle with cancer and passed away on 1 December her home in Yellow Springs, Ohio.
MORE: The Queen's secret health battle revealed in new book 
Michelle and her husband, Barack Obama, posted a message on the page of their Higher Ground Media production company. 
WATCH: Michelle Obama opens up about life at home without daughters Malia and Sasha
Alongside a photo of Julia, they wrote: "Last night we lost a true giant. A trailblazing filmmaker, Julia Reichert dedicated her life to documenting socially and historically significant stories that gave voice to so many, particularly the working class and women.
"Collaborating with her on the Oscar-winning documentary American Factory was an honor and privilege that we will always cherish at Higher Ground. 
MORE: Michelle Obama reveals her daughters 'couldn't stand each other'
MORE: Michelle Obama details her reality of menopause, weight gain and 'hot flashes'
"We know that Julia's talent, humanity and commitment to mission-centric storytelling will continue to inspire current and future creators worldwide, including all of us."
Michelle and Barack worked with Julia 
Fans rushed to share their sadness and commented: "So sorry. what a giant talent. deepest sympathies to her friends and family and colleagues," and, "She was amazing". There were strings of heart emojis and praying hands as they paid tribute to the star. 
REVEALED: King Charles' sweet link to late Queen during official duties
READ: Queen Consort Camilla and Princess Kate wore the same Queen brooch at banquet – find out why
Steven Bognar, her husband and collaborator, confirmed the death and said his wife had been receiving treatment for non-Hodgkin's lymphoma and a form of urinary cancer for years.
Julia lost her battle to cancer 
Julia's success was a surprise to her as she admitted her career was unexpected: "I had no idea I would be, quote unquote, a filmmaker," she said in an interview with Yellow Springs radio station WYSO. "I just knew I loved photography. I loved getting better at it. I loved learning about taking pictures. And I really loved the radio."
Like this story? Sign up to our HELLO! Mail newsletter to receive all the latest royal and celebrity news straight in your inbox


Read the full article here
Billie Eilish performs remotely during star-studded Earthshot Prize ceremony
Tania Leslau

Billie Eilish was headlining Prince William's second annual Earthshot Prize ceremony awards in Boston on Friday night

Billie Eilish kept it simple for her remote performance at Prince William's Earthshot Prize awards ceremony on Friday evening, wearing a comfortable grey sweatshirt as she sat at her piano to sing 'My Future'.
LOOK: Princess Kate is a tour de force in surprisingly flamboyant suit
The Grammy-award winner was part of a stellar line-up that included Annie Lennox, Ellie Goulding and the Beyoncé-backed R&B duo Chloe x Halle that performed during the event.
WATCH: Billie Eilish opens up about 'exhausting' syndrome
Billie prerecorded her performance of 'My Future' from her home in Los Angeles, and she was joined by her brother Finneas.
The Prince and Princess of Wales were greeted with a standing ovation as they took to stage for the start of the ceremony, which referenced the colonists who came to Boston 400 years ago. Elizabeth Solomon, a member of the Massachusetts tribe at Ponkapoag, asked attendees to "respect the lands and waters".
LOOK: Pippa Middleton turns heads in Karen Millen coat that's selling out quickly
Dubbed Prince William's "Superbowl moment," the glitzy ceremony drew an A-list crowd at the MGM Music Hall at Fenway in Boston. Among those presenting awards were Oscar-winning actor Rami Malek, Home Alone and Schitt's Creek star Catherine O'Hara and environmental activist and Big Little Lies star Shailene Woodley.
Earthshot Prize council members Sir David Attenborough and Cate Blanchett will both provide voiceovers during the ceremony, which will be presented by UK broadcaster Clara Amfo and US actor Daniel Dae Kim.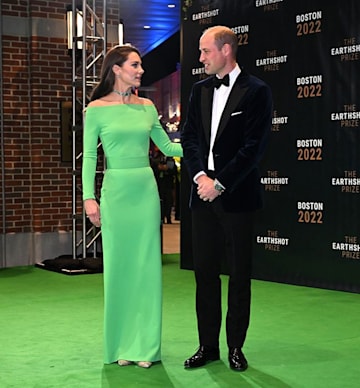 Ambassador Caroline Kennedy, daughter of President John F Kennedy, whose "Moonshot" speech about space travel inspired the Earthshot prize, will also take part with her son Jack Schlossberg, JFK's only grandson. 
The ambitious, decade-long, global Prize programme aims to discover and scale up solutions to the planet's biggest environmental challenges.
Among the ideas competing this year are a cleaner-burning stove initiative in Kenya and a bubble barrier made in the Netherlands to prevent plastics entering oceans.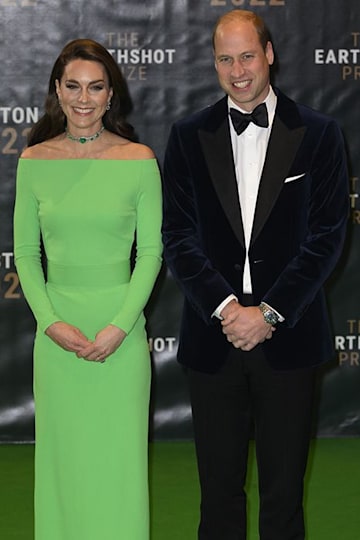 William described the finalists as "innovators, leaders, and visionaries" and said they proved there are "many reasons to be optimistic about the future of our planet".
READ: Princess Beatrice looks sultry in satin on festive night out with husband
He went on to say: "They are directing their time, energy, and talent towards bold solutions with the power to not only solve our planet's greatest environmental challenges, but to create healthier, more prosperous, and more sustainable communities for generations to come."
Like this story? Sign up to our HELLO! Mail newsletter to receive all the latest royal and celebrity news straight in your inbox.


Read the full article here
Watch T.J Holmes and Amy Robach joke about their 'great week' after romance reports
Rebecca Lewis

GMA anchors T.J Holmes and Amy Robach break silence on their 'great week' after romance emerges

GMA anchors T.J Holmes and Amy Robach have broken their silence, joking that they have had a "great week" after reports of an affair between the two.
TRENDING: Amy Robach's husband removes all pictures of GMA anchor after T.J Holmes affair
"You know, it's too bad it's Friday. It's been a great week" said 45-year-old T.J live on air on Friday morning. "I just want this one to keep going and going and going. Just enjoy it! Take it all in."
WATCH: GMA anchors T.J Holmes and Amy Robach break silence on their 'great week' after romance emerges
Amy then began laughing and added: "Speak for yourself. I am very excited about the weekend — and I'm sure everyone else is too. We all love our Fridays around here. Some of us do, at least."
Their public banter about the romance came after the Daily Mail published pictures of Amy and T.J. in upstate New York on a romantic getaway together. 
MORE: Dylan Dreyer is glowing as she shares very happy update
In the pictures T.J. could be seen grabbing Amy's bottom as they removed groceries from the car, and another snapshot showed them holding hands in a vehicle in the city.
Hours after the report broke, both of the anchors removed their personal Instagram pages.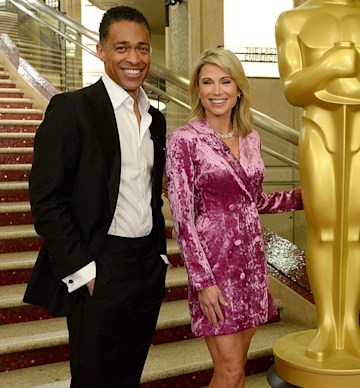 The pair have been co-anchors for years
It has since been claimed that both Amy and T.J split from their respective partners in August and no romance between the pair began until then.
They returned to TV screens on Thursday after the reports surfaced, leaving fans – who thought they may have taken the day off to navigate news of their extra-marital connection – shocked.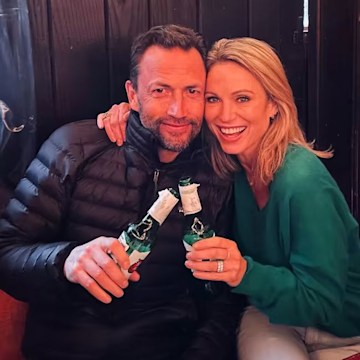 Both Amy and T.J are now estranged from their families
Amy had been married to actor Andrew for 12 years. She has two daughters, Annie and Ava, from her former marriage to Tim McIntosh, and she has also been a stepmother to Andrew's three sons.
T.J tied the knot with his wife, Marilee Fiebig, in 2010 and they have a daughter, Sabine. T.J. is also father to two other children, daughter Brianna, and son Jaiden.


Read the full article here