John Travolta mourns loss of Grease co-star Olivia Newton-John following her death
Hanna Fillingham

John Travolta paid a heartbreaking tribute to Olivia Newton-John following her death aged 73

John Travolta has paid a touching tribute to his great friend and Grease co-star Olivia Newton-John following her death aged 73.
MORE: Olivia Newton-John opens up about health amid cancer battle
The actor took to Instagram to share a throwback picture of Olivia, alongside an emotional message. It read: "My dearest Olivia, you made all of our lives so much better. Your impact was incredible. I love you so much. We will see you down the road and we will all be together again. Yours from the first moment I saw you and forever! Your Danny, your John!"
Fans were quick to comment on the heartbreaking post, with one writing: "This made me cry. I loved Grease," while another wrote: "Such a beautiful friendship." A third added: "I have no words," alongside a crying face emoji.
VIDEO: Olivia Newton-John opens up about her cancer diagnosis 
The singer's husband, John Easterling, announced the heartbreaking news on Monday August 8, alongside a photograph of her on Instagram and an emotional statement.
MORE: Olivia Newton-John expresses her heartache after tragic loss
MORE: Olivia Newton-John reveals she's desperately missing her family amid cancer battle
It read: "Dame Olivia Newton-John (73) passed away peacefully at her Ranch in Southern California this morning, surrounded by family and friends. We ask that everyone please respect the family's privacy during this very difficult time.
John Travolta paid a touching tribute to Olivia Newton-John following her death
"Olivia has been a symbol of triumphs and hope for over 30 years sharing her journey with breast cancer. Her healing inspiration and pioneering experience with plant medicine continues with the Olivia Newton-John Foundation Fund, dedicated to researching plant medicine and cancer.
MORE: John Travolta's new photo with daughter Ella blows fans away
MORE: John Travolta's daughter Ella receives sweet message from Olivia Newton-John
"In lieu of flowers, the family asks that any donations be made in her memory to the @onjfoundation."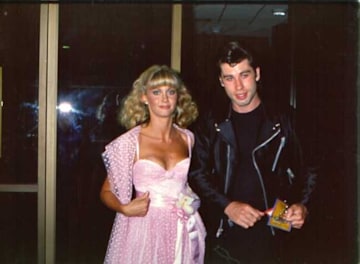 John Travolta and Olivia Newton-John were incredibly close
It continued: "Olivia is survived by her husband John Easterling; daughter Chloe Lattanzi; sister Sarah Newton-John; brother Toby Newton-John; nieces and nephews Tottie, Fiona and Brett Goldsmith; Emerson, Charlie, Zac, Jeremy, Randall, and Pierz Newton-John; Jude Newton-Stock, Layla Lee; Kira and Tasha Edelstein; and Brin and Valerie Hall."
MORE: John Travolta expresses his heartbreaking experience with grief after losing wife Kelly Preston
MORE: John Travolta shares rare photo of son Benjamin during family trip to the beach
John and Olivia played Sandy and Danny in Grease and remained close friends following the hit film's release in 1973.
Olivia's death follows on from John's heartbreaking loss of his wife Kelly Preston, who passed away from breast cancer in 2020. Olivia was there for John and his family during the difficult time.
Like this story? Sign up to our HELLO! Mail newsletter to get other stories like this delivered straight to your inbox.


Read the full article here
Joe Sugg sends hidden message to Dianne Buswell as he spends Christmas with his family
Andrea Caamano

The Strictly Come Dancing couple are spending Christmas apart, with Dianne Buswell in Australia and Joe Sugg in England

Joe Sugg and Dianne Buswell might be thousands of miles apart this Christmas, but they are still very much on each other's minds.
Whilst the Strictly Come Dancing pro partner has been gushing about reuniting with her parents, her brothers and her nieces, and hitting the beach, Joe has returned to Somerset to spend time with friends and family.
The 31-year-old has been documenting his "wonderful trip to the shire" and couldn't help but send girlfriend Dianne a hidden message.
VIDEO: Dianne comments on having children with boyfriend Joe
LATEST: Why Dianne Buswell and Joe Sugg are celebrating Christmas apart
Whilst gushing about his stay "at the amazing Court Farm", a lovingly restored 16th Century farmhouse in Somerset, Joe sent Dianne a décor hint, revealing: "I kinda want our house to look like this!"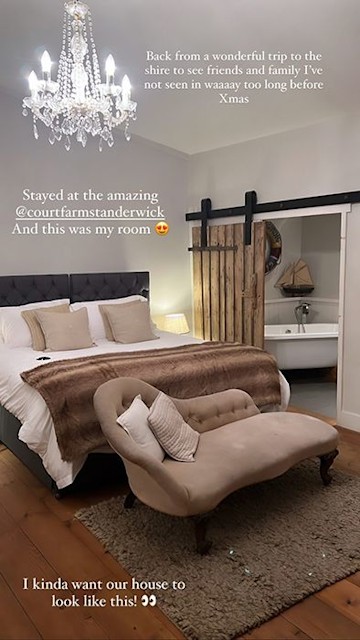 Joe has travelled to Somerset to see family and friends
The gorgeous bedroom, as shown in a photo posted on his Instagram Stories, boasts a superking bed under a vintage chandelier, with an authentic barn door which opens onto a bathroom with both a huge walk-in shower and contemporary roll top bath.
Joe also praised the log burner, keeping him warm during his stay. "You cannot beat a good log burner this time of year," he wrote.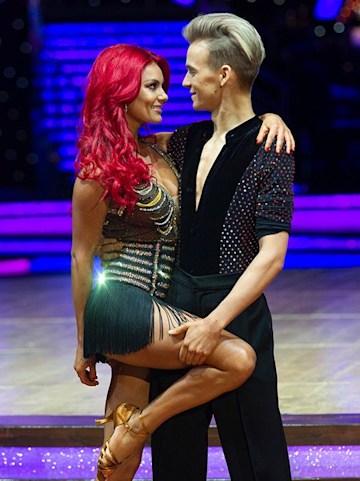 The couple fell in love whilst taking part on Strictly Come Dancing
The theme would no doubt work well in Joe and Dianne's country home in Sussex. The couple met on Strictly in 2018 and swapped their London flat for their first home together complete with a beautiful garden boasting uninterrupted country views.
Joe went on to reveal to his followers that he was visiting Lacock, a village in the county of Wiltshire.
"Forever grateful for this beautiful village where I grew up," he said.
He then visited The Lacock Bakery and showed its gorgeous window display, which featured a copy of his book, Grow: How Nature Can Restore Balance in a Busy World.
"I used to go to this bakery as a toddler in my pushchair and now look! I left a special message in this book," he remarked.
Like this story? Sign up to our HELLO! Mail newsletter to receive all the latest royal and celebrity news straight in your inbox.


Read the full article here
A look inside ABC star David Muir's intensely private personal life
Hannah Hargrave

World News Tonight anchor David Muir has fans wondering if he's found love

ABC star David Muir has long kept fans guessing about his personal life, refusing to share details online or across social media sites like many of his colleagues. But fans do know that David is still on the market and he's not married, although it remains unclear if he is even dating.
Exclusive: Amy Robach's 'deceptive' interview with Andrew Shue and T.J. Holmes revealed
In fact, as the video below explains, despite being connected to several other high profile TV personalities, there's only one certain someone who does take up David's time…
Despite numerous reports of romance for the World News Tonight anchor, David has always refused to publicly address his love life, but has been vocal about a number of leading ladies who he holds dear to his heart.
Kelly Ripa is one of those special people, so much so that the Live with Kelly and Ryan star paid a heartfelt tribute to David in her book, Live Wire.
TRENDING: Joanna Gaines shares breathtaking peek of her Waco farmhouse
An extract from the book – which is released on 27 September – was posted on Kelly's Instagram Stories over the weekend, and the message is included on a page of acknowledgements.
It read: "To David Muir, you are the backbone and moral compass I need sometimes."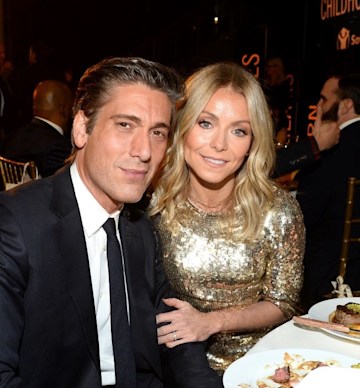 Kelly and David have been close friends for years
His fellow ABC star, Amy Robach, is also a firm favorite of David's and they have been known to spend time together both on and off-screen.
His sister, Rebecca, is close with David and he calls his many nieces and nephews his "squad," and says he's incredibly proud of all of them.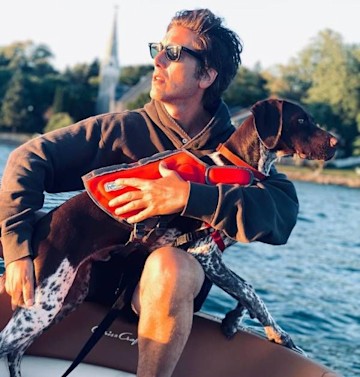 At home, it's his beloved gun dog, Axel, who has his heart, as he regularly shares adorable photos with the pup, who he is clearly besotted with. 
That's not to say he hasn't had his fair share of marriage proposals though! Not a day goes by when he isn't flooded with compliments from his adoring fans on social media. 
But alas, the dedicated journalist is practically married to his job, leaving little time for love!
Read more HELLO! US stories here 
Like this story? Sign up to our newsletter to get othe


Read the full article here
Al Roker sparks emotional reaction as he mourns sad loss
Jenni McKnight

Today star Al Roker shared some sad news with fans on Thursday as he mourned the death of legendary producer Thom Bell

Al Roker shared some sad news with fans on Thursday as he paid an emotional tribute to an influential figure in his life.
The Today star – who made a shock departure announcement this week – took to Instagram to pay his respects to legendary Jamaican-born Philadelphian producer, arranger, and songwriter Thom Bell, who sadly died aged 79, although his cause of death has not been disclosed.
WATCH: Al Roker's health battle revealed
Sharing a photo of Thom, Al wrote: "Legendary Philadelphia producer Thom Bell passing away at 79. His music was the soundtrack of my life.
"From The Spinners, The O'Jays, The Delfonics, The Stylistics to Elton John, he was part of that distinctive Sound Of Philadelphia. Thank you for your gift."
TRENDING NOW: Al Roker replaced on beloved show as concerning health battle continues
POPULAR: Al Roker's alarming health woes – everything he has said about his ongoing battle
Many of Al's followers were saddened by the news and left crying-face and praying hand emojis in the comments as well as paying their own emotional tributes to the late music star.
Al paid tribute to Thom Bell
"Such a tremendous loss of an amazing talent that was able to capture and create a sound like no other," replied one. A second wrote: "Rest in Peace. Love the music you shared with us. Prayers for his family."
A third shared their condolences while also wishing Al a speedy recovery, writing: "Sad news – wonderful legacy. I hope you are continuing to feel better and stronger. @todayshow is not the same without you."
It's been a particularly hard time for Al over the past few weeks, as not only has he been recovering after having blood clots on his lungs, but he also faced the devastating news that his sister Patricia had passed away shortly after he was discharged from hospital.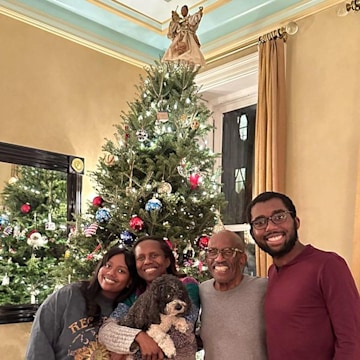 Al is recovering at home with his family
The TV star, who has been a part of Today for over 25 years, was admitted to the hospital shortly after Thanksgiving due to blood clots and remained hospitalized for over two weeks.
Al, who has taken an absence from the show ever since, gave an update to viewers from home last week. "It has been a tough slog. I'm not going to lie. It has been the hardest one yet and I've had my share of surgeries.
He continued: "I have a lot of things and people to be thankful for. It gives you a profound sense of gratitude for this outpouring of prayers and thanks."
Read more HELLO! US stories here 
Like this story? Sign up to our HELLO! Mail newsletter to receive all the latest royal and celebrity news straight in your inbox.


Read the full article here