Jennifer Coolidge Revealed She Slept With 200 People Thanks To Her Role As Stifler's "MILF" Mom In "American Pie"
"There were so many benefits to doing that movie."
Back in 1999, the cult-classic sex comedy American Pie was released in theaters and quickly became a huge success.
The film, which was directed by Paul Weitz, follows teenagers Jim, Oz, Finch, and Kevin — portrayed by Jason Biggs, Chris Klein, Eddie Kaye Thomas, and Thomas Nicholas, respectively — through high school as they desperately attempt to lose their virginity before college comes around.
Known for its crude humor and graphic sexual dialogue, American Pie quickly garnered widespread popularity and ended up being the first of a series of sequels.
While the original American Pie series has four movies in total, a later spinoff collection saw another five films being released, giving the billion-dollar franchise a total of nine different installments.
And as is the case with any hit franchise, much of its success is owed to its characters, whom many fans grew obsessed with.
From band camp–loving Michelle Flaherty to strikingly obnoxious Steve "Stifler," the characters of American Pie — most of whom starred in each of the series's installments — had viewers rolling with laughter.
But there was one character in particular who became a certified fan favorite: Stifler's mom, aka Jeanine, who was portrayed by Jennifer Coolidge.
Referred to almost exclusively as "Stifler's mom" throughout the franchise, Jennifer's flirtatious character was famously known for her sex appeal and "MILF" (Mother I'd Like to Fuck) status, even hooking up with Finch — to Stifler's dismay — several times.
And it's safe to say that Jennifer — who went on to star in a series of movies after American Pie's huge success — did a pretty impressive job of conveying the seductive persona of Stifler's mom.
So much so, in fact, that she found herself getting a lot of attention IRL once the movies were out, she has now revealed.
Speaking with Variety this week, Jennifer divulged that she "got a lot of play" out of "being a MILF" in the American Pie flicks.
"I got a lot of sexual action from American Pie," she said.
"There were so many benefits to doing that movie," she continued.
"There would be like 200 people that I would never have slept with," she said with a smile.
Well, it's safe to say that fans were pretty thrilled by Jennifer's revelation, with many using Twitter to label her an "icon" and "queen."
Shortly after American Pie was released, Jennifer was catapulted to further fame by landing a role in 2001's Legally Blonde alongside Reese Witherspoon.
Playing one of the film's most memorable characters, Paulette Bonafonté, Jen won fans over with her hilarious one-liners.
After taking on several other lighthearted and comedic roles — like in A Cinderella Story, 2 Broke Girls, and even an episode of Friends — Jennifer is currently starring in the HBO series The White Lotus.
The actor portrays Tanya McQuoid in the comedy-drama, starring alongside the likes of Alexandra Daddario and Euphoria's Sydney Sweeney.
Speaking about her personal ties to her character in the Variety interview, Jennifer shed a little light on her past habit of "chasing unattainable men."
"My weakness in life has always been men, and — a lot of women do this — you sell out for a guy," she said. "A lot of my life was chasing unattainable men, and it got me nowhere."


Read the full article here
Jennifer Garner is the ultimate style icon in skinny jeans and heels
Phoebe Tatham

Jennifer Garner looked absolutely flawless in a pair of skinny jeans and towering heels as she took part in an intricate handshake with comedian, King Bach

Jennifer Garner sparked a sweet fan reaction on Tuesday with a surprising video of herself busting some seriously quirky moves.
MORE: Jennifer Garner and boyfriend make rare romantic outing together
Taking to Instagram, the 50-year-old actress uploaded a hilarious video of herself performing an intricate handshake with comedic actor, King Bach.
WATCH: Jennifer Garner wows in unexpected video
Despite the fast-paced nature of their friendly interaction, Jennifer looked sensational as she sashayed across the balcony in a pair of towering Mary Jane heels.
MORE: Jennifer Garner steps out wearing diamond ring following Ben Affleck and J-Lo's wedding
MORE: Jennifer Garner breaks silence following Ben Affleck and Jennifer Lopez's wedding
Embracing the change in weather, the mum-of-three teamed her nude heels with a pair of ultra-flattering cigarette pants, a black knitted cardigan, a formal white shirt and a smart woollen coat.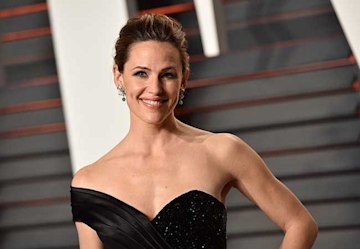 The actress is set to star in a new Netflix comedy
"#FAMILYLEAVE is off to the races! Day 1! @kingbach @netflixfilm," Jennifer noted in the caption.
Fans heaped praise on the duo, with one writing: "The best handshakers there ever were!" whilst a second remarked: "And in heels impressive."
"Beyond gorgeous and adorable!" penned a third, and a fourth gushed: "Your energy is contagious! God bless you!"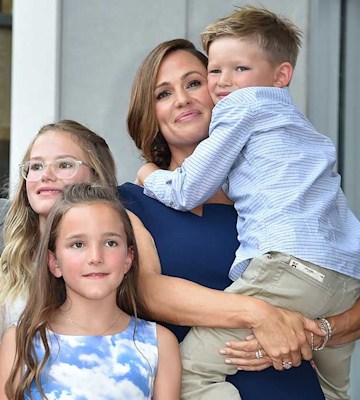 Jennifer shares three children with her ex-husband Ben Affleck
Jennifer is gearing up for her next Netflix project in the form of family comedy, Family Leave. A brief synopsis shared by the streaming giant reads: "The Brenners wake up to a full family body switch, they quickly realize the same thing has happened to a family on the other side of the world; they must unite with this group of strangers and determine how to undo the body switch."
The star's latest social media update comes after the 13 Going on 30 actress stepped out to enjoy a rare public outing with her 17-year-old daughter, Violet.
Dressed up to the nines, the mother-daughter duo attended the state dinner for French President Emmanuel Macron.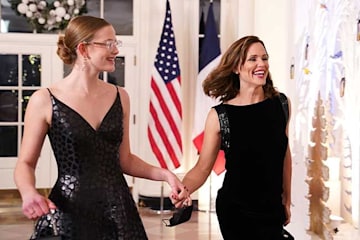 Jennifer and Violet looked lovely
Violet looked all grown up in a statement black Carolina Herrera dress which she teamed with bold red heels. Jennifer, meanwhile, slipped into a sleek floor-length gown with ornate detailing around the shoulders.
Stunned by Violet's glamorous appearance, one Instagram follower wrote: "Your date – my heart skipped a beat when I saw a photo," while another gushed: "You and Violet looked stunning. What a night for you and her."
Read more HELLO! US stories here


Read the full article here
Al Roker returns to social media with emotional tribute from his NBC co-stars
Hanna Fillingham

Today's Al Roker has broken his silence with a new message as he recovers from complications from blood clots on his lungs

Al Roker is currently back in hospital following complications from having blood clots on his lungs.
TRENDING NOW: NCIS fans delighted as beloved character returns to show
The Today star is incredibly missed by his fans and co-stars – and was feeling all the love on Monday.
So much so, that Al – who has been keeping a low profile while he recovers – took to Instagram to re-share a video that his colleagues at NBC had made for him.
VIDEO: Al Roker's rise to fame – from his early career to the Today Show
The footage was shared on Al's Instagram Stories, subtly showing that the star had not only watched it, but was thankful for it.
MORE: Al Roker's daughter shares update after dad rushed back to hospital
MORE: Al Roker's latest job will leave you in awe – and it's for a good cause 
NBC News' Tevin Wooten had been the one to share the heartfelt footage, alongside the message: "The entire weather division at NBC & Telemundo is thinking about our pal, Al Roker."
Al's Today co-hosts had also been thinking of him on Monday, and made sure that they didn't leave him out of their holiday video card.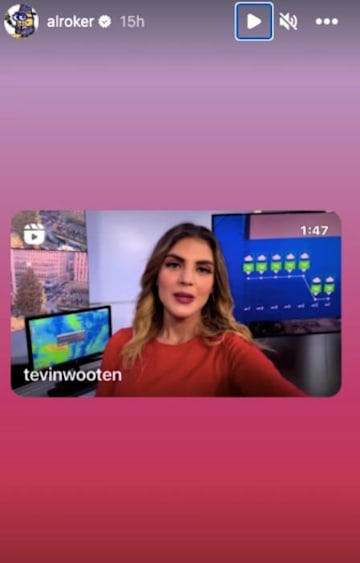 Al Roker returned to social media to share a heartfelt video from his NBC co-stars
The Love Actually inspired video saw Savannah Guthrie, Hoda Kotb, Dylan Dreyer, Sheinelle Jones, Craig Melvin and Jenna Bush Hager all take part.
EXCLUSIVE: Savannah Guthrie's injury revealed BTS on her cooking show
MORE: Al Roker encourages fans to conquer stress as he takes time off Today
Not wanting to miss Al, the group included the beloved weatherman by creating cutouts of his face for everyone to hold.
Al's wife Deborah Roberts, meanwhile, appeared to give a positive update after visiting her husband over the weekend.
Alongside a photo of a coffee cup, she wrote on Instagram Stories: "Faith and gratitude." The journalist later posted a picture of the TV screen while back at home, showing the Georgia Bulldogs winning against the LSU Tigers. "A good day all around!" she wrote, suggesting that there had been some positive news about Al too.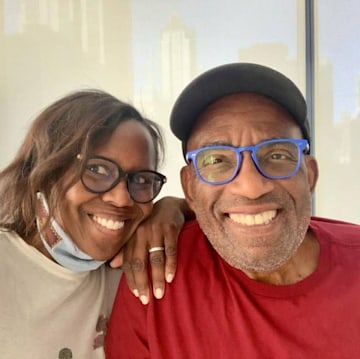 The Today star with wife Deborah Roberts 
Deborah had also shared a reflective post last week, posting a picture of the turning leaves in New York, where the family lives, and wrote: "So grateful for the love."
MORE: Today Show surprises with live wedding ceremony on program
MORE: Hoda Kotb hosts Today alone as she delivers heartbreaking news
She didn't elaborate on Al or how he was feeling but earlier that day she had also shared a snapshot of a TV airing the Rockefeller Christmas Tree Lighting ceremony and she appeared to be in a hospital room.
Read more HELLO! US stories here 
Like this story? Sign up to our HELLO! newsletters to get other stories like this delivered straight to your inbox.


Read the full article here
Ashton Kutcher wipes away tears as he recalls brother's near-death experience
Phoebe Tatham

Ashton Kutcher has shared a deeply emotional insight into his twin brother's cerebral palsy condition and traumatic near-death experience – details

Ashton Kutcher has shared an emotional insight into his twin brother Michael's traumatic near-death experience.
MORE: Ashton Kutcher gushes over wife Mila Kunis in rare home video
In a joint interview with Dr. David Agus, the siblings discussed Michael's cerebral palsy condition and subsequent heart transplant.
WATCH: Mila Kunis and Ashton Kutcher share emotional video
Touching on his brother's near-death experience, Ashton revealed: "My dad comes, picks me up, and it's like, we're going to go see your brother and I'm like… everything is not okay. And he flatlines in the room."
MORE: All we know about A-list couple Mila Kunis and Ashton Kutcher's relationship and marriage
MORE: Ashton Kutcher reveals the unexpected way he first told Mila Kunis he loved her
The actor went on to say: "I know that noise because now I've been visiting occasionally and watching the thing go and it flatlines out. And they're like, 'You've got to [go],' and they're grabbing me, and they take me out and I'm like, 'what the hell is going [on]?'"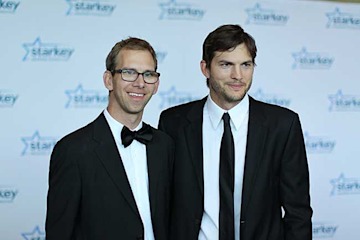 The brothers appeared in their first joint interview with Dr. David Agus
In the moving clip, Ashton could be seen wiping away tears as his brother raced to comfort him.
Elsewhere in the interview, the That 70's Show star reflected on his own personal health battle with vasculitis – a rare autoimmune disease affecting the blood vessels.
"I was unable to walk and then suddenly you can't see," he revealed in the trailer.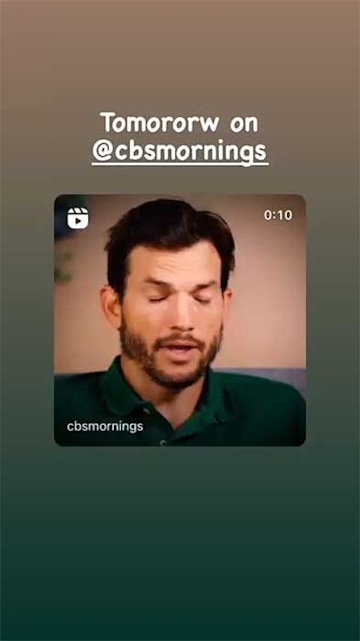 The actor welled up with emotion
Ashton continued: "When you have this face to face with death you instantly lock into what are you doing with today."
This isn't the first time the 44-year-old has lifted the lid on his health struggle. Appearing on Running Wild with Bear Grylls: The Challenge, the No Strings Attached actor explained how he's "lucky to be alive".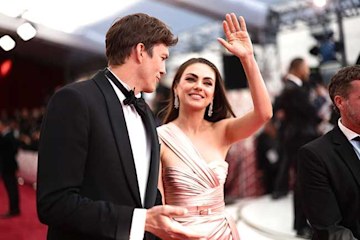 Ashton and Mila tied the knot in 2015
"I had this weird, super rare form of vasculitis, that like knocked out my vision, it knocked out my hearing, it knocked out like all my equilibrium," he explained.
Reflecting on his scary ordeal, Ashton went on to say: "You don't really appreciate it, until it's gone… Until you go, 'I don't know if I'm ever going to be able to see again, I don't know if I'm ever going to be able to hear again, I don't know if I'm ever going to be able to walk again.'"
Read more HELLO! US stories here 


Read the full article here