Jennette McCurdy Claimed Nickelodeon Offered Her $300,000 Of "Hush Money" After Her Experiences On "iCarly"
On Tuesday, after months of anticipation, Jennette McCurdy's personal memoir, titled I'm Glad My Mom Died, was released.
The book details the iCarly alum's troubled childhood and adolescence, and the complicated relationship she had with her mom, Debra McCurdy, who died in 2013.
Opening up about the abuse she endured from her mom, Jennette writes that Debra started bleaching her hair and whitening her teeth when she was just 10 years old. By 11, Jennette claims, Debra had taught her how to restrict calories, which resulted in a yearslong struggle with multiple eating disorders.
And Debra, who Jennette says gave her breast and vaginal exams in the shower throughout her teenage years, also forced the star to pursue a career in acting from a young age. So much so, in fact, that when Jennette — unhappily — landed her huge role on Nickelodeon's iCarly at the age of 15, Debra was thrilled.
Jennette starred as Sam Puckett on the popular teen sitcom from 2007 to 2012, alongside Miranda Cosgrove, who played titular character Carly Shay, and Nathan Kress, who portrayed Freddie Benson.
And while the fan-favorite Sam Puckett was a humorous and witty character, Jennette's experiences during her years on iCarly were actually incredibly uncomfortable, she now says.
In her memoir, Jennette recounts her experiences with an unnamed figure she calls "The Creator," whom many have assumed is Dan Schneider, producer of iCarly and several other popular Nickelodeon shows, like Victorious and Sam & Cat.
In 2021, the New York Times uncovered allegations that Schneider — who cut ties with Nickelodeon in 2018 — had been verbally abusive prior to his departure, though found no evidence of sexual misconduct. Jennette claims that her former boss, whom she doesn't name, got in trouble with the network for "accusations of his emotional abuse."
Giving more details about her experiences with "The Creator," Jennette claims he supplied her with alcohol in a bid to help her feel more comfortable, despite the fact that she was under the legal drinking age in the US at the time.
Jennette recalls "The Creator" encouraging her to take a sip of his drink while no one was looking in order to give her "a little edge." "Come on, take a sip," she recounts him saying, to which she replied: "No thanks."
"Come on," he allegedly insisted again, to which Jennette responded: "I've never had alcohol before. And I'm only eighteen. Couldn't I get in trouble?"
"'No one's looking, Jennette. You're fine,'" she recalls him telling her. "'The Victorious kids get drunk together all the time. The iCarly kids are so wholesome. We need to give you guys a little edge.'"
Victorious starred the likes of Victoria Justice, Ariana Grande, Elizabeth Gillies, and more. When the show began shooting, the actors were just 17, 16, and 16, respectively.
Jennette goes on to detail that she felt she was being sexualized on iCarly, saying she was photographed in a bikini during a wardrobe fitting.
The actor also notes that she felt uncomfortable with her body and grew "terrified of being looked at as a sexual being."
Moreover, Jennette recalls feeling uneasy when "The Creator" once gave her a shoulder massage without asking her. She writes: "He pats my shoulders and then the pat turns into a massage," adding that he told her: "Oof, you're so tense!"
She continues: "My shoulders do have a lot of knots in them, but I don't want The Creator to be the one rubbing them out. I want to say something, to tell him to stop, but I'm so scared of offending him."
What's more, the actor recounts having her first kiss, which was with costar Nathan Kress, on camera for an episode of iCarly. While Jennette makes it clear that Nathan treated her kindly, she explains that she felt super uncomfortable throughout.
"My body is stiff. Unflinching. My body is rejecting my mind," she writes. "My mind is saying who cares that this is your first kiss, that your first kiss is on-camera. Get it over with. Do what you're told."
"My body is saying no, I don't want this," she details. "I don't want my first kiss to be like this. I want my first kiss to be a real first kiss, not a kiss for a TV show." Per E! News, Jennette also recalls "The Creator," who was directing the episode, demanding "more head movement" from her in spite of her discomfort.
After recounting her uncomfortable experiences, Jennette — who went on to star in Sam & Cat for a year after iCarly ended before leaving Nickelodeon for good — claims the network attempted to keep her from speaking publicly about her experiences by offering her $300,000, which she declined.
"What the fuck?" she writes. "Nickelodeon is offering me three hundred thousand dollars in hush money to not talk publicly about my experience on the show? My personal experience of The Creator's abuse? Shouldn't they have some sort of moral compass?" A spokesperson from Nickelodeon did not immediately respond to BuzzFeed News' request for comment on these claims. But in an interview with the New York Times, he said, "I wouldn't have the long-term friendships and continued loyalty from so many reputable people if I'd mistreated my actors of any age, especially minors."
Read the full article here
LeAnn Rimes gives special Thanksgiving shoutout to husband Eddie Cibrian's ex-wife Brandi Glanville
Rebecca Lewis

LeAnn Rimes surprises fans with Thanksgiving shoutout on Instagram to husband Eddie Cibrian's ex-wife RHOBH star Brandi Glanville

LeAnn Rimes has given a sweet shoutout to her husband Eddie Cibrian's ex-wife Brandi Glanville as she missed their family Thanksgiving.  On the special day LeAnn took to Instagram to post a picture of herself and Eddie and his two sons, Jake and Mason, and Eddie's parents.
TRENDING: Gisele Bundchen reaches out to Tom Brady with surprisingly heartfelt gesture
"'We can only be said to be alive in those moments when our hearts are conscious of our treasures,' -Thornton Wilder," LeAnn captioned the post, tagging the phrases 'Thanksgiving' and 'Thankful' before adding: "@brandiglanville we missed you."
WATCH: LeAnn Rimes performs 'beautiful' acoustic music in swimming pool
"Happy Thanksgiving! So thankful for you all. #modernfamily," Brandi commented in response and LeAnn replied with a heart emoji.
Brandi shared the same picture on her own account and revealed she was home sick and unable to join her sons and ex-husband. "Happy Thanksgiving to all! I missed my modern family today as I'm at home in bed with a cold. Love these people," she captioned her own post.
EXCLUSIVE: Today's Savannah Guthrie reveals husband's hilarious reaction to family's new Christmas tradition
TRENDING NOW: Madonna's rare photo with all six of her kids has fans asking questions
Their friendship has been built over the years following their contentious relationship when it emerged in 2009 that Eddie had been cheating on Brandi with LeAnn. Brandi and Eddie were married from 2001 to 2010, while LeAnn was married to her own husband Dean Sheremet and filed for divorce shortly after the news broke.
Eddie and LeAnn then wed in April 2011 and were in a public feud with Brandi for several years. However they came together over co-parenting Jake, 15, and 19-year-old Mason.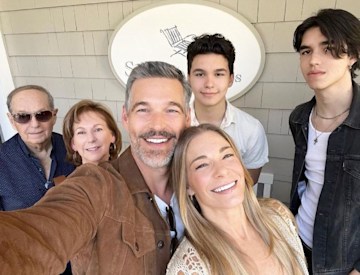 LeAnn shared this picture with fans and Brandi reposted it
"I love to see this!" commented one fan. "A willingness to grow and change for the better so that you and your ex and the new partner(s) are able to peacefully co-parent should always be applauded."
LeAnn recently turned 40 and released her fifteenth studio album, God's Work. She has been on a promotional tour for the record that recently took her to New York City, and she took a moment to express gratitude for where life had taken her.
"Couldn't have asked for a better way to release #godswork into the world. Blessed to be surrounded by the sweetest souls, who worked so hard to make it happen," she captioned the post.
Read more HELLO! US stories here
Like this story? Sign up to our newsletter to get other stories like this delivered straight to your inbox


Read the full article here
Paris Hilton wows fans with Baywatch-inspired swimsuit as she celebrates first wedding anniversary
Rebecca Lewis

Paris Hilton and husband Carter Reum have been celebrating their wedding anniversary in the Maldives.

Paris Hilton has been celebrating her wedding anniversary in the Maldives and gave fans a sneak peek at "paradise on Earth" when she shared a picture of herself rocking a bright red Baywatch-inspired swimsuit.
TRENDING: Gisele Bundchen reaches out to Tom Brady with surprisingly heartfelt gesture
In the picture Paris was in crystal clear blue waters and wore a Melissa Odabash red suit which featured a tie detail on the chest and ruffled sleeves. She paired the look with white heart-shaped sunglasses and wore her hair in a loose low bun, perfect for a day in the ocean.
WATCH: Paris Hilton stuns in bright pink wedding dress
"I've been all over the world and stayed at the most beautiful places. But I've never seen anything like the @IthaafushiPrivateIsland at @WaldorfAstoriaMaldives. This private island is truly Paradise on Earth!" she captioned the post.
Paris added: "So beautiful, romantic and relaxing here! Feels like a dream! I feel so lucky and blessed to be here with my love celebrating our anniversary."
EXCLUSIVE: Today's Savannah Guthrie reveals husband's hilarious reaction to family's new Christmas tradition
TRENDING NOW: Madonna's rare photo with all six of her kids has fans asking questions
Other pictures showed Paris lounging in a unicorn-shaped float while she also gave fans a glimpse into her evenings with husband Carter Reum, with the pair dressing up in their formal best for dinner.
In several pictures Paris wore a whimsical white maxi dress with floral detailing and a thigh-high split, paired with neutral wedges.
Paris shared a series of pictures with fans 
The trip comes after Paris addressed the speculation surrounding her fertility after her mom Kathy Hilton claimed her daughter was "struggling" to conceive her first child with her husband.
The 41-year-old took to her Instagram Stories to dismiss her mom's comments, revealing she and Carter were always planning to start their family after their first wedding anniversary which they celebrated in mid-November.
Paris also clarified that she is not experiencing fertility issues and has lots of "healthy embryos".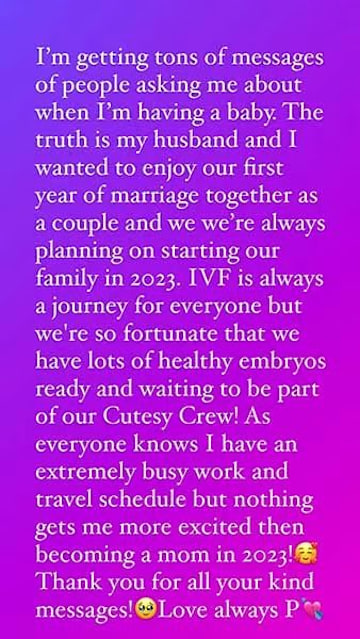 Paris addressed the rumors
"I'm getting tons of messages of people asking me about when I'm having a baby," she wrote. "The truth is. My husband and I wanted to enjoy our first year of marriage together as a couple and we were always planning on starting our family in 2023."
Revealing that the couple are using IVF, Paris added: "IVF is always a journey for everyone but we're so fortunate that we have lots of healthy embryos ready and waiting to be part of our Cutesy Crew!"
Paris concluded. "As everyone knows I have an extremely busy work and travel schedule, but nothing gets me more excited than becoming a mom in 2023. Thank you for all your kind messages!"
Read more HELLO! US stories here
Like this story? Sign up to our newsletter to get other stories like this delivered straight to your inbox


Read the full article here
Kate Beckinsale shocks with bloody and bruised appearance in startling BTS photos
Hannah Hargrave

Underworld star Kate Beckinsale shocked fans with her appearance in a series of revealing new photos

Kate Beckinsale is certainly dedicated to her craft! The Underworld actress startled her social media followers when she posted a selection of photos in which she appeared to have been injured. 
The star took to Instagram with images of herself bloody and bruised and simply captioned them: "TGIF."
TRENDING NOW: Meghan Markle looks so different in new photo ahead of family celebration 
In the snapshots, Kate had cuts on her faces and bruised hands, she also wore a back brace as fans rushed to ask if she was ok. 
WATCH: Kate Beckinsale shows off sensational physique in jaw-dropping video 
"What happened boo?" asked one as another commented: "Ouch! Hope you're on the mend."
Others added shocked face emojis and many wondered if she had been filming a new Underworld movie. 
The majority of Kate's dedicated followers realized her look was for the movie she's working on, Canary Black. 
MORE: Kate Beckinsale reveals new short hairdo 
POPULAR: Joanna Gaines' husband Chip's opinion on divorce as he opens up about their relationship
One even wrote: "Canary Black movie leaving you bruised and battered. I bet it's gonna be good tho. Saw some behind the scenes where a tram flips a car. Looked epic. Rest up kB. Hope you have a good weekend."
Kate was bloody and bruised for her new movie 
Kate recently surprised fans when she revealed a totally new hair style for her role in the film. 
In place of her long locks, she is now wearing a short, wavy bob, with a red hue. 
LOOK: Kate Beckinsale has fans divided over her cheeky swimsuit photos
READ: Kate Beckinsale looks stunning in strapless green bikini
After sharing a clip of herself having her tresses perfected in her trailer, she was inundated with comments as fans wrote, "That color really suits you," and, "gorgeous," while others said they thought the short hair looked great and called her "stunning".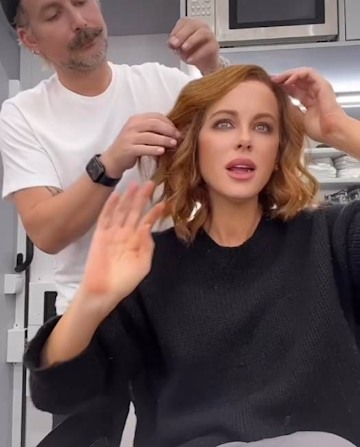 Kate is rocking shorter hair for her new movie 
While her wardrobe for the flick doesn't look too wild, over the summer, Kate ensured all eyes were on her once again when she stepped out in the most amazing latex outfit. 
She thrilled off-set when she showed off her killer curves and toned legs and finished the look with a classic high ponytail.
Kate also gave Catwoman a run for her money by pairing her look with matching latex evening gloves.
Read more HELLO! US stories here 
Like this story? Sign up to our HELLO! Mail newsletter to receive all the latest royal and celebrity news straight in your inbox.


Read the full article here