Emily Ratajkowski's Husband Is Apparently "Begging" For "Another Chance" After She Subtly Confirmed That He Cheated
Following reports that Sebastian Bear-McClard had been exposed as a "serial cheater," insiders now claim that Emily recently "discovered even more shit he did behind her back" after doing some "digging" of her own.
As I'm sure you've probably heard by now, Emily Ratajkowski and her husband, Sebastian Bear-McClard, are getting divorced.
Emily and Sebastian — who is best known for his credits as a producer on movies like Uncut Gems and Good Time — got married in a low-key courthouse ceremony in early 2018, just weeks after they were romantically linked for the very first time.
In the four years that they've been together, the duo has maintained a relatively private relationship, with Sebastian occasionally making appearances on Emily's Instagram account.
Before the birth of their son, Sylvester, in March 2021, Emily gave fans some rare insight into their marriage, opening up about their complicated thoughts on becoming parents in a heartfelt essay she penned for Vogue during her pregnancy.
"My husband likes to say that 'we're pregnant.' I tell him that while the sentiment is sweet, it's not entirely true," she wrote at the time.
"Despite having a loving partner and many female friends ready to share the gritty details of their pregnancies, I am ultimately alone with my body in this experience," she went on. "My husband has no physical symptoms in 'our' pregnancy, another reminder of how different a woman and man's experience of life can be."
The low-key pair sparked rumors of a split last month, after Emily was photographed several times without her wedding ring.
Before long, several outlets confirmed suspicions that the couple had called it quits, with a source telling Entertainment Tonight that Emily is planning to file for divorce, citing "issues" in their marriage.
Expanding on this, a second insider told Page Six that the reason for their split was Sebastian's alleged infidelity, claiming, "Yeah, he cheated. He's a serial cheater. It's gross. He's a dog."
Neither Sebastian nor Emily have directly commented on the divorce so far, and they haven't issued any kind of statement regarding the cheating allegations.
However, eagle-eyed fans noticed last week that Emily had given her subtle stamp of approval to a string of very pointed tweets discussing the demise of her marriage — including one that appeared to confirm Sebastian's infidelity.
"Can't believe that little bitch cheated on emrata," the tweet read — Emily's sneaky acknowledgment putting speculation to rest.
She also liked three more fan tweets; the first hinting that she's "celebrating" the divorce, and a second noting that she's "finally free from that man."
In spite of the fact that Emily has quietly made her thoughts on the matter clear, it sounds like Sebastian is still holding out hope for a potential reunion.
A source told Page Six on Wednesday that the Uncut Gems producer is desperately hoping that Emily will rethink the divorce, saying he's "begging her to give him another chance."
The insider went on to claim that his chances of winning her back seem pretty slim, alleging that Emily recently uncovered more information about his behavior during their marriage.
"[A second chance is] not going to happen because she did her own digging and discovered even more shit he did behind her back," the source claimed.
The couple have not been photographed together since their breakup was reported. But it seems as if they're already beginning to navigate life as co-parents to 1-year-old Sylvester.
On separate occasions in the past week, both Emily and Sebastian have been seen spending time with their son amid reports that they're mutually focused on parenting in the wake of their split.
According to Page Six, there is no legal documentation to suggest that their divorce is already in motion. However, in spite of Sebastian's pleas, we suspect this might change very soon.


Read the full article here
England and Chelsea star Mason Mount shares details on relationship status
Sharnaz Shahid

World Cup 2022: England and Chelsea player Mason Mount shares details on his relationship status after split from model Chloe Wealleans-Watts…

All eyes have been on Mason Mount every time he takes to the pitch during the World Cup, playing for England in their bid to become champions.
Ahead of the tournament kicking off, the Chelsea player – who has been dubbed one of the most eligible men in Britain – teamed up with fashion It girl Emilia Boateng in December's issue of Tatler. Find out all about his love life here…
WATCH: David Beckham's daughter Harper scores at goal at Wembley Stadium
"Football is my priority," he affirmed when asked about his relationship status. He does, however, occasionally go on dates. "Sometimes when I come up to London," the footballer notes, confirming he's not trawling through dating apps such as Tinder or Hinge.
MORE: David Beckham proves daughter Harper could be a future England footballer
READ: Inside the England Lionesses' homes – Beth Mead, Lucy Bronze, Millie Bright & more
The 23-year-old is now single, having previously dated model Chloe Wealleans-Watts after they got together in 2017. It's not known when the former couple parted ways.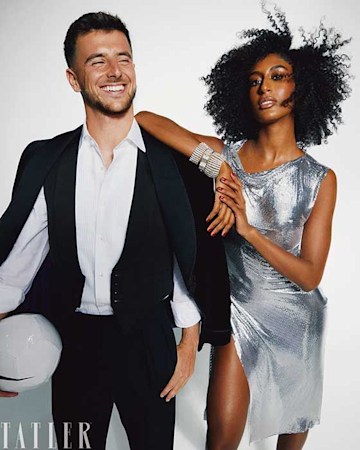 Mason Mount and Emilia Boateng feature in Tatler's latest issue photo credit – Ahmed Hassan
Mason, who is worth a reported £20 million, went on to comment on England's chances of winning following the Lionesses amazing win at the Euros.
"We want to win. And with the group we have, we can definitely do that," he added. "I feel like we're on the right path. We want to make the nation proud."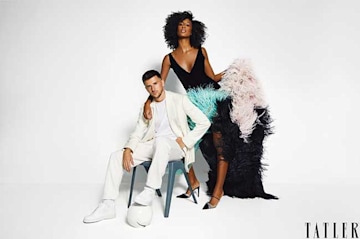 The footballer is set to play for England at the World Cup
Asked about what he thought of the Lionesses bringing football home before the boys did, Mason said: "Over the moon," explaining that he and fellow England player Phil Foden were watching the Euro 2022 final from a suite in Wembley Stadium.
"I was very lucky to be able to see what they did," he added. "It was amazing being a spectator. It was unbelievable. I was absolutely buzzing."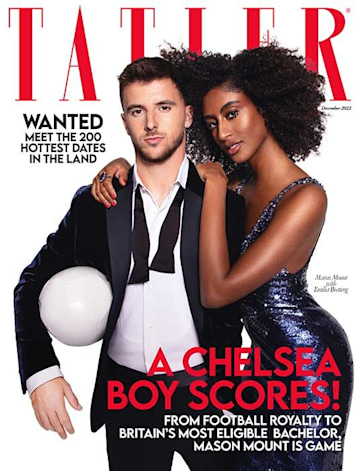 The pair featured in the December issue of Tatler
The sports star has represented England since he was 15, joining the senior side in 2019 when he was 20. He became part of the Euros team last year – with the team reaching the final at Wembley. "We were so close," he remarked. "That's what makes it so hard."
MORE: Prince William's sweet words to Lioness captain Leah Williamson revealed as they hugged at final
The December issue of Tatler featuring Little Black Book is available on newsstands and via digital download on 27 October.
Like this story? Sign up to our HELLO! Mail newsletter to receive all the latest royal and celebrity news straight in your inbox.


Read the full article here
Melanie Griffith shares rare 'thankful' photo with famous mom Tippi Hedren
Ahad Sanwari

Melanie Griffith sparked a big reaction with a rare photo alongside her iconic mom Tippi Hedren after the Thanksgiving weekend

Melanie Griffith had reason to be thankful over the extended holiday weekend, as she got to spend Thanksgiving with her family.
MORE: Melanie Griffith looks unrecognizable after head-turning transformation
Chief among them was her mom, legendary actress Tippi Hedren, and even posted a photo of the two relaxing together over the weekend.
VIDEO: Melanie Griffith presents mum Tippi Hedren with lifetime achievement award
While the two reclined on an animal-print laden bed, it was clear that they shared a close bond, and Melanie even wrote: "Thankful that my Mom is still here with us."
The 92-year-old icon garnered a strong reaction from fans and celebrities alike, many of whom still touted Tippi as being a beautiful figure.
MORE: Melanie Griffith's daughter Stella Banderas enjoys bikini-clad vacation with boyfriend
Even ex-husband Antonio Banderas left a comment which read: "Love for both of you ladies," while many left scores of heart emojis and Olivia Harrison wrote: "What a blessing."
A fan said: "So beautiful Melanie! You are so lucky to still have her. Happy Holidays, Beautiful!" while another added: "Thankful for you still having her. You are so blessed."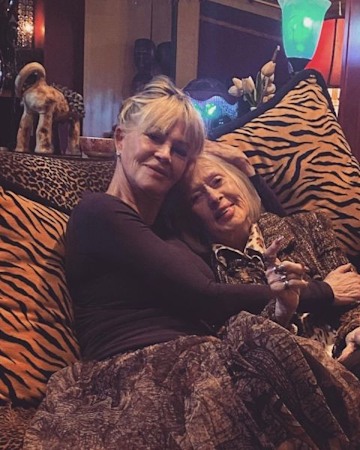 Melanie expressed her gratitude for still having her mother in her life
The actress is a mom herself to three children, eldest son Alexander Bauer with ex-husband Steven Bauer, Dakota Johnson with Don Johnson, and Stella Banderas with Antonio.
In fact, she got the opportunity to reunite with Don over the holiday weekend as they got together with several other members of the extended family.
MORE: Melanie Griffith stuns fans by stripping to underwear for candid photos
MORE: Exes Melanie Griffith and Don Johnson reunite for iconic family photo shoot
Some of their kids from their previous marriages were present as well, while Melanie even posed alongside Don's now wife Kelly Phleger as the two have maintained a strong familial relationship.
The entire group were even seen engrossed in board games in one photograph, showcasing that a good time was had by all in the blended family gathering.
The actress reunited with her ex-husband Don and their extended family over the holiday weekend
"A bunch of family moments. Grateful for each one of them. Laughter, memories, and love," the Oscar-nominated actress captioned her set of images, receiving a warm response from her followers.
Read more HELLO! US stories here
Like this story? Sign up to our newsletter to get other stories like this delivered straight to your inbox.


Read the full article here
David Muir kickstarts holiday prep in rare personal photograph
Ahad Sanwari

ABC and World News Tonight star David Muir shared a peek at his holiday prep with his latest rare personal photo

Leave it to David Muir to get an early head start on his holiday prep the week after Thanksgiving itself.
MORE: David Muir supports ABC co-star following difficult time in family
The World News Tonight anchor shared a rare personal photograph of himself while out shopping to decorate his home in time for Christmas.
VIDEO: David Muir's glimpse into his lavish home
He held aloft a pair of big bushy wreaths while at a Christmas tree farm, also dressed smartly in a brown jacket with a white tee and jeans, a much more casual look than what we're used to seeing him in.
David was getting into the holiday mood early, as he even captioned his photograph with: "Alright, let's bring some cheer."
MORE: David Muir will be reuniting with his GMA co-stars for a special reason in the near future
Many fans could quite easily relate as one commented: "Who's starting to decorate their Home with Christmas decorations yet ? I am."
Another added: "You succeeded! Very merry and bright!" while a third wrote: "Xmas Cheer when you are not working so many hours!!!"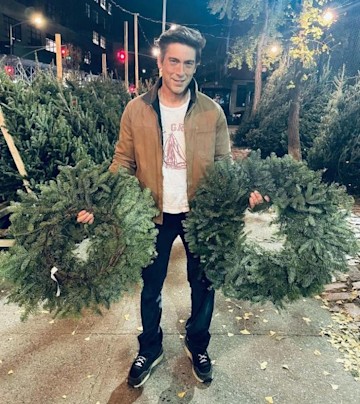 David got an early start to his holiday home prep
The decorations are likely to brighten up the journalist's expansive upstate New York estate near the water, which he shares with his beloved pet dog Axel and often hosts family and friends at.
While David is already looking forward to Christmas and some more holiday fun, he clearly had a relaxing and spirited start to the season.
MORE: David Muir sends love to Al Roker after concerning health update
MORE: David Muir divides fans following interview with former Vice President Mike Pence
In honor of Thanksgiving the previous Thursday, the ABC News anchor posted a beautiful photo of his older sister, Rebecca – and they look so alike!
Taking to his Instagram Stories, David shared a snapshot of his sibling setting the table for dinner. Rebecca looked beautiful in a black top as she arranged a bouquet of flowers for the centerpiece.
The ABC News anchor spent Thanksgiving with his family
"Happy Thanksgiving. My sister. Some flowers and a bunch of turkeys," David captioned the photo. He also shared a snapshot of Axel, which he captioned: "I got some turkey too because I'm a good boy."
Read more HELLO! US stories here
Like this story? Sign up to our newsletter to get other stories like this delivered straight to your inbox.


Read the full article here