Britney Said Her 15-Year-Old Son Won't "Get Anything" From Her In 2 Years After His Shocking Comments About Their Relationship
Britney Spears is continuing to put her 15-year-old son, Jayden, on blast after he publicly discussed their strained relationship in a tell-all interview last week.
If you missed it, Jayden — whom Britney shares with ex-husband, Kevin Federline, along with 16-year-old Preston — sat down with ITV News on Friday to open up about the "time and effort" needed to repair things between himself and his mom.
For a quick bit of background, Britney and Kevin — who parted ways in 2007, a year before her controversial conservatorship came into effect — share custody of Jayden and Preston. Britney has long been providing the DJ with $20,000 a month for each of the boys in child support, while also covering their school, insurance, and clothing expenses.
In 2018, Kevin infuriated fans as he requested an increase on these payments from Britney, who was still living under the constraints of the legal arrangement.
More recently, the DJ sparked backlash as he opened up about Britney's relationship with her sons during an interview with the Daily Mail. He claimed that Jayden and Preston were uncomfortable with the singer's minimally censored nude Instagram photos, while suggesting that her father, Jamie Spears, "saved her life" — in spite of Britney's numerous accusations that he'd been abusive toward her.
Kevin also discussed Jayden and Preston's decision to stop seeing Britney, telling the outlet that they'd "made the decision" not to go to her and Sam Asghari's wedding in June. "The boys have decided they are not seeing her right now," he said. "It's been a few months since they've seen her. They made the decision not to go to her wedding."
Explaining this further during his ITV interview last week, Jayden said that while he's "really happy" for Britney and Sam, he and Preston didn't feel comfortable attending their wedding because he didn't see how it would've "ended on good terms." "She didn't invite the whole family and then if it was just going to be me and Preston, I just don't see how that situation would have ended on good terms," he said.
"I don't think she showed enough to Preston and I feel really bad for that," he said. "We've both been through so much pressure in the past that this is our safe place now, to process all the emotional trauma we've been through to heal, heal our mental state."
"I just want her to get better mentally. When she gets better, I really want to see her again," he added, before defending Britney's parents and saying that Jamie "doesn't deserve all the hatred he is getting in the media." Jayden said of his grandfather: "I love him, with all my heart. He was just trying to be a father."
Jamie also discussed Britney's social media posts, suggesting that her content is a play for attention. "Social media helps her…So if that's what she wants to do, that's what she wants to do. I'm not going to hate her for that," he said. "At the same time, she should come to the realization of whatever it is that stops her loving her family."
"It's almost like she has to post something on Instagram to get some attention," he went on. "This has gone on for years and years and years and there's a high chance that this will never stop but I'm hoping for me that she will stop."
Shortly after Jayden's bombshell ITV interview went live, Britney shared a lengthy statement to Instagram, in which she urged him and Preston to speak with her face-to-face.
"It deeply saddens me to know his outcry of saying I wasn't up to his expectations of a mother," she wrote. "If you could pause for a second, remember where you came from!!! I hope you can look in the mirror and remember… You are my child and always will be!!!"
"I would love nothing more than to see you two face to face," she added, before throwing a quick jab at Kevin, who she said "hasn't had a job in 15 years" and smokes weed "every day."
Britney's response was quickly met with floods of positive comments online, as supporters of the pop star praised her for speaking her truth.
Now, the singer has aired her grievances toward Jayden once more, sharing a two-minute audio recording to her Instagram page on Monday.
In the clip, which has since been deleted from the platform, Britney began: "I can totally understand why my family would have a problem with me doing my own thing. Maybe because I never have."
"I'm sure it is a little bit different and a touch lighter, me not being responsible for three 18-wheeler trucks with tour equipment and thousands of people to be responsible for on tour," she said.
"So Jayden, as you undermine my behavior just like my whole family always has with, 'I hope she gets better, I will pray for her,'" she went on, before questioning: "Pray for what? I keep working so I can pay off mom's legal fees and her house? Do you guys want me to continue to get better so I can continue giving your dad 40 grand a month?"
Britney went on to note that in two years' time, presumably once Jayden — who turns 16 in less than a week — is 18, he won't be getting "anything" from her anymore.
"Or is the reason you guys have decided to be hateful is that it's actually over in two years and you don't get anything?" she questioned.
Britney then claimed that she'd previously looked Jayden "straight in the eyes" and asked him: "How come I can't see you guys anymore? Or just see you guys more?" In response, she said that the teenager told her: "Momma, it'll change."
"You and your brother left me in that house always two hours early," the pop star said. "Preston would sleep, you would play the piano the whole time. And if I didn't shower you guys with gifts and have amazing food ready and play a motherfucking saint, it was still never good enough."
"I didn't do anything wrong and I know I'm not perfect, but the love I've given you and how much I adore you and your diplomatic way [of] speaking like Paw Paw [Jamie Spears]… 'This can be fixed, I will see when she's better?' Jayden, it was a miracle I could even have a normal conversation when I got out of that place," she said.
Britney went on: "You were just like my other family. You secretly loved looking at me as [if] something was wrong with me."
"I didn't need a family hiding shit in houses and whispering shit behind my back. Feeling subconsciously guilty because I paid for every fucking thing in both homes. I needed unconditional love and support," she concluded.


Read the full article here
A Really "Awkward" Clip Of Kylie At Paris Fashion Week Has Reminded Fans That She Never Actually Wanted To Be Famous
When the KarJenners' hit reality show, Keeping Up With the Kardashians, premiered on E! in 2007, Kylie Jenner — the youngest of the clan — was just 9 years old.
With little say in the matter, Kylie was inevitably thrust into the spotlight as the series took off, and she ended up having some pretty ~memorable~ moments captured on camera.
In fact, the early seasons of KUWTK documented the trials and tribulations of Kylie's preteen years and adolescence — from her first time experimenting with makeup to several awkward clashes with her parents.
But as she grew older, Kylie — perhaps unsurprisingly — began to appear more and more uncomfortable with her family's fame-filled lifestyle and, lo and behold, ended up claiming she wasn't "supposed to be famous" during a 2016 episode.
"I feel like I've had anxiety for too long. I feel too much, I care too much, I read too much," she told elder sister Kim. "Some people are born for this life and some people aren't. I just know I'm not supposed to be famous."
A year later, Kylie got candid about the subject once more during a conversation with her then–best friend, Jordyn Woods, in her spinoff series, Life of Kylie. "I don't want my picture taken, I don't want people to see what outfit I'm wearing," she said. "Every time there's paparazzi I cover my face."
And in more recent years, Kylie has continued to prove that she's still not the biggest fan of the spotlight, having famously kept the birth of her first daughter, Stormi, a secret from the entire world — much to the contrary of her sisters, who documented their pregnancies and even gave birth on Keeping Up.
Now 25 and a mom of two, Kylie is a successful billionaire and business mogul. But despite gaining fresh popularity with her emergence on TikTok, Kylie has continued to appear uncomfortable with the limelight.
Not only does the young star rarely attend red carpets alone, instead often accompanied by 4-year-old Stormi, but she virtually never sits down for interviews without her mom, Kris Jenner, by her side.
And so, when an "awkward" clip of Kylie at Paris Fashion Week surfaced online on Thursday, it wasn't long before fans were reminded of her complicated relationship with the spotlight.
In the now-viral video, which was shared by TikTok user @nettart, Kylie can be seen surrounded by a group of people, including photographers, backstage at the Balmain show.
After quickly embracing creative director Olivier Rousteing, whom she's friends with, fans said that Kylie — who was seemingly only accompanied by BFF Stassie Karanikolaou — looked "so shy" and "nervous" as she stood with her hands in front of her and peered around.
And when the clip in question was later posted into a Reddit forum, more people agreed with the discourse.
"Kylie looks so shy and introverted when she's out of her bubble," one person wrote, while others labeled the entire thing "awkward and uncomfortable."
But before long, fans considered Kylie's long-running discomfort with the spotlight and expressed their empathy for the star.
"She has talked about her anxiety. Total evident in these videos," one person wrote.
Another said, "She's mentioned before she doesn't feel like she was meant to be famous. She didn't really get a choice. She was like 9 when the show started?"
"Dude can we stop making this girl go places," another person echoed. "Like, clearly she doesn't feel comfortable. And obviously it has a huge effect on her mental health."
Meanwhile, some fans said that it was "refreshing" to see such a huge public figure "act just as awkward and uncomfortable" as any other person while suggesting that the clip served as a strong reminder that Kylie is, after all, only human.
"It's kind of refreshing to see a famous person act just as awkward and uncomfortable as me tbh," one person wrote. "This makes me like her a teeny bit more idk why," another agreed.
Read the full article here
DWTS' Sharna Burgess becomes US citizen in emotional video: 'I belong'
Rebecca Lewis

Dancing with the Stars professional Sharna Burgess is now an American citizen. Sharna shared a video on Instagram of her reciting the Pledge of Allegiance.

Former Dancing with the Stars professional Sharna Burgess has revealed that she is now an American citizen.
MORE: Brian Austin Green sparks a reaction with controversial DWTS scores
"Today something really amazing happened," she captioned a video of her reciting the Pledge of Allegiance at her ceremony on Thursday 6 October.
WATCH: DWTS' Sharna Burgess becomes a US citizen
"I had no idea that this would feel emotional for me. This has been my home for nearly 12 years now. My son was born here, my life and love and career.. all here. And yet this last step of becoming a citizen and finally having the same rights as all Americans felt so important," she shared with fans, revealing that she had "never even had to vote anywhere before".
"I think I always felt a bit like a Gypsy searching for belonging. Afraid of staying in one place and also craving the security of it. But then, America slowly became my permanent home.
MORE: Landon Barker shows up for girlfriend Charli D'Amelio's DWTS performance
MORE: DWTS' Heidi D'Amelio details pressure and wanting to walk out ahead of first dance
"Eventually I found my tribe here, I bought a home here, I fell in love here, I birthed my son here.
"Now this final step is the period at the end I never knew I was needing so much. This very long chapter of finding belonging has finally come to a close. I Sharna Burgess, am a citizen of The United States of America, and I belong here."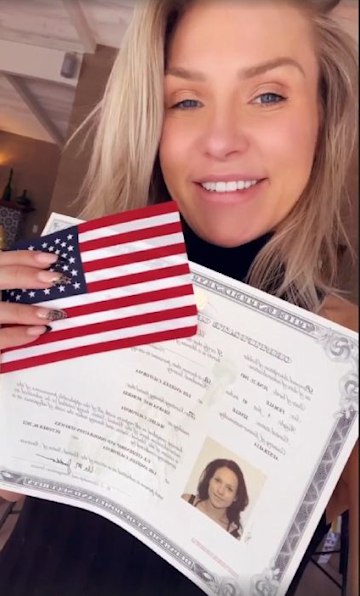 Sharna shared the wonderful news with fans
Cheryl Burke, Peta Murgatroyd and Carrie Ann Inaba were among those to react and share their love with Sharna, writing congratulatory messages and leaving heart emojis.
In a video Sharna later posted on her Stories, she revealed that she "didn't expect" the oath reading to be emotional, and thanked her partner Brian Austin Green for filming the moment for her.
Sharna, 37, was born in Australia.
Earlier in 2022 she welcomed her first child with Brian; Brian is already father to three children with ex-wife Megan Fox; five-year-old son Journey, seven-year-old Bodhi and Noah, nine. He is also dad to 19-year-old son Kassius from a former romance.


Read the full article here
Kourtney Said Working Will "Never" Be Her "Top Priority" When Someone Said Kim "Works Harder" And People Think It Was Shade
If you've been ~keeping up~ with the KarJenners over the years, you'll be well aware that the sisters, namely Kim and Kourtney Kardashian, have repeatedly clashed over the subject of work ethic.
Back in 2017, Kourtney began spending less time filming for her family's E! reality show, Keeping Up With the Kardashians, and more time with her three kids, Mason, Penelope, and Reign, after being advised by a therapist to reevaluate her life and priorities.
But this decision from Kourtney ended up causing lots of tension among her and her sisters, with her and Kim even getting into a literal physical fight in Season 18 over their differing attitudes toward work.
The spat occurred after Kim claimed she was far more committed to working than her sisters, even telling Kendall Jenner that she'd "still show up" even if she were on her "deathbed."
And going on to dismiss the fact that Kendall gets anxiety attacks, Kim proudly maintained that she and Khloé would push through and work "no matter how sick" they were.
Understandably, Kourtney immediately took issue with Kim's stance, accusing her of thinking she's "better than everyone because she works more."
"I don't wanna hear this narrative any more about this work ethic," she said in a confessional. "It's as if she's better than everyone because she works more — it's such bullshit. We don't all have to do things the same way."
So, it's no secret that the subject of work and work ethic is pretty controversial in the KarJenner household.
Well, it's safe to say that ever since Keeping Up came to an end in 2021, Kim has only attracted more attention for her ~questionable~ work advice, memorably going viral earlier this year for her message to "women in business."
In an interview with Variety in March, Kim said: "I have the best advice for women in business: Get your fucking ass up and work. It seems like nobody wants to work these days."
"You have to surround yourself with people that want to work," she went on. "Have a good work environment where everyone loves what they do, because you have one life. No toxic work environments."
Kim's "advice" quickly rubbed people the wrong way, as several fans pointed out that she'd failed to acknowledge how her immense wealth and privilege undeniably makes running a successful business easier for her than the average person.
Months later, in an episode of Hulu series The Kardashians, fans were exposed to Kim's very work-committed attitude once more as she memorably rallied through several swimsuit shoots despite being sick.
"Even though I'm feeling sick I'm gonna get all of this done, because when I commit myself to something, I will give 150% of myself. And I'll never disappoint anyone," she said.
Meanwhile, Kourtney has continued to focus on her family, including now-husband Travis Barker, alongside her work pursuits in recent years.
And now, it seems like the age-old work-related feud between the sisters might've resurfaced — or, at least, that's what some people think.
Earlier this week, Kourtney found herself hitting back at a troll on Instagram who claimed Kim has "always" worked harder than her. "Kim works harder than you always has always will," it read.
In response, Kourtney — in typical Kourtney fashion — sent a lengthy and sassy reply to the Instagram user that has since attracted tons of attention on Reddit.
"working will never be my top priority 🤪🤪🤪 (my kids and husband will always be!) and I am not apologizing for being me. Also, I absolutely love this work venture and it doesn't feel like work," she wrote.
And, perhaps in light of their messy past, several Reddit users quickly theorized that Kourtney had been throwing a little shade at Kim with her comment.
"The way she worded this sort of shades kim," one popular comment read. "I thought that too!!!" Someone agreed.
One person went on to accuse Kourtney of insulting Kim's relationship with her four children: North, Saint, Chicago, and Psalm.
"She always insinuates Kim is a shit mom in these conversations," one person added.
And, perhaps expectedly, it wasn't long before Kim's infamous Variety interview was brought into view, too.
"I support this statement," one person wrote in response to Kourtney's comment. "Remember in the get your ass up and work interview Kim was saying something along the lines of that her team is always working and even at night when they are with families. Like that is so wrong. She was making it seem like working a lot is a flex."
What's more, people went on to discuss the subject of "toxic hustle culture" more broadly.
"Why are people so obsessed with hard work? Do people think working and burning themselves out is a flex?!" one Reddit user questioned. "it's definitely the toxic 'hustle culture' that have taken lives in our generation," another replied.


Read the full article here